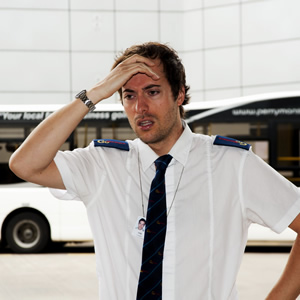 BCG met a rather anxious coach driver at the festival. He's asked us to pass on this message...
If anyone has ever travelled with Go Northern coaches before, you'll know that we offer an unrivalled service from the historic town of Newark upon Trent in the heart of the East Midlands, to practically anywhere and everywhere in mainland Britain.
Or at least we did until some prick stole my coach! I parked it on Lothian Street on Bristo Square, for less than five minutes on August 1st. I've been frantically searching for nearly three weeks!
Not only did they steal the coach, they stole the 61 women that were aboard. Most of them are elderly and recently widowed. I'm genuinely concerned as there's only one toilet on board and many of them are unable to move without assistance. I've literally just had the thing reupholstered.
If anyone has seen it, or a load of old women wandering about, looking mortified, please report it to Just The Tonic at Bristo Square, where you'll also find at 4:10pm, Fraser Millward's Masquerade! An hour of sketch and character comedy. Running until this Sunday 25h August.
Thanks for your help (unless you're the thief).