Rod is God
Rod is God
Storytelling
4pm (1 hour)
1-23, 25 & 27 Aug 2012
9.50 - 12
This is a 2012 show that has now finished.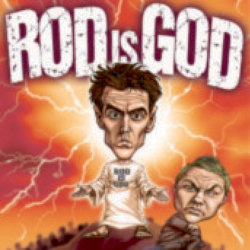 Show details
Storytelling starring Matt Ralph and Paul Biggins performed on the following days in August 2012...
Mon
Tue
Wed
Thu
Fri
Sat
Sun
01
2
3
4
5
6
7
8
9
10
11
12
13
14
15
16
17
18
19
20
21
22
23
24
25
26
27
28
29
30
31
Venue details
In this dark new comedy from the makers of Late Night Gimp Fight, flatmates Rod and Jack made a mistake. They created their very own cult to make some quick cash. They weren't expecting people to join. Now the cult is getting too big for them and everybody wants in. There's so much to think about. Bringing more Z-list celebrities onboard to promote the cult. Getting people to actually send money without asking for it. Plus there's that little matter of the end of the world...
Share this show
Reviews
Full press release
Rod is God is a brand new comedy play from three of critically acclaimed sketch deviants Late Night Gimp Fight. Lee Griffiths writes & directs Matt Ralph & Paul Biggins in a tale of two ordinary blokes, down on their luck, who decided to start a cult.
What starts as a moneymaking scheme quickly spirals out of control as more and more people (including a few famous faces) wholeheartedly embrace the message - as the cult gains more momentum & worldwide recognition, our heroes struggle to keep up, eventually getting booted out of their own creation.
Rod is God is an exploration of the lengths people will go to in the name of religion (and money) and depicts the cult exploding beyond anything its creators could have imagined - splinter groups are formed, loyalties divided and essence of faith questioned. Witness the beginning of the end of the world...
The show will incorporate an associated viral marketing that will run throughout the summer & feature multimedia throughout the performance. This is not your average theatre show. Join the cult & learn the truth behind who Rhod really is.
Late Night Gimp Fight were an underground hit at the Edinburgh Fringe in 2009, compounding the hype in 2010, when they were nominated for the Foster's Edinburgh Comedy Newcomer award - they then went on to win best character/sketch act at the Chortle Awards in 2011.
Credits