Kieran & Joe
Kieran and Joe: Friends of Steel
Comedy
3:15pm (1 hour)
2-27 Aug 2012
8.50 - 9.50
This is a 2012 show that has now finished.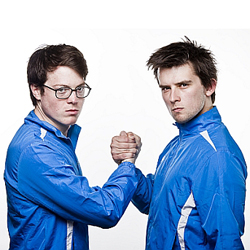 Show details
Comedy starring Kieran Hodgson and Joe Parham performed on the following days in August 2012...
On 6th and 7th tickets are two for one.
Mon
Tue
Wed
Thu
Fri
Sat
Sun
01
2
3
4
5
6
7
8
9
10
11
12
13
14
15
16
17
18
19
20
21
22
23
24
25
26
27
28
29
30
31
Venue details
Double act Kieran and Joe lead a course in extreme friendship training. A show for anyone who has ever bonded with another human being or is thinking about giving it a go. Come learn from the masters how to make friends, keep friends and break friends. 'Relentlessly hilarious, craftsmanlike in concept, writing and delivery' ***** (Telegraph). 'A really joyful experience' **** (Comedy.co.uk) 'Hilarity ... delightfully misguided' **** (Metro). 'Leading lights of the latest wave of sketch troupes ... very funny, very silly and, briefly, quite chilling' (Evening Standard). 'A comic gem' (Scotsman).
Share this show
Reviews
Press coverage
Full press release
Fringe favourites Kieran & Joe head back to the Edinburgh Festival Fringe this year with a life-changing hour of brand new comedy.
Friends of Steel is an extreme friendship training course designed to turn even strangers into lifelong friends. Course leaders Kieran and Joe believe their friendship can survive anything and - with the right kind of intense training - so can anybody else's.
Over the course of an hour, they'll take the audience through a twisted children's sleepover, a harrowing crisis and some truly bizarre bonding exercises. Their goal: to make your friendship as unbreakable as theirs. Which, it may just turn out, isn't all that unbreakable at all.
Kieran & Joe first brought their unique seminar-based sketch shows to the Fringe with 2009's Become The Boss Of Everything on PBH's Free Fringe.
In 2010, as Kieran and The Joes, they came back with an extra Joe and a new hour called Success: A Success Story, which was the breakout hit of that year's Free Fringe.
In 2011 their show Teampowered was a sell-out success, with extra dates added to cope with audience demand. Now they're back to their roots as a double act with friendship master class Friends of Steel.
The show is performed and co-written by Kieran Hodgson and Joe Parham. Non-performing member Tom Meltzer is the group's head writer, director and producer.
Kieran Hodgson is also performing his hour-long debut Kieran Hodgson: Supervillain at The Speakeasy at The Voodoo Rooms, as part of PBH's Free Fringe.
Credits