Hanks & Conran
Hanks and Conran: Pigs In Blankets
Stand-up
5:20pm (1 hour)
2-13 & 15-26 Aug 2012
5 - 6.50
This is a 2012 show that has now finished.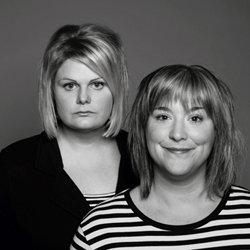 Show details
Stand-up show starring Lou Conran and Susan Hanks performed on the following days in August 2012...
Mon
Tue
Wed
Thu
Fri
Sat
Sun
01
2
3
4
5
6
7
8
9
10
11
12
13
14
15
16
17
18
19
20
21
22
23
24
25
26
27
28
29
30
31
Venue details
Hanks and Conran: Pigs in Blankets. Take two comedians: one sweet, one sour, add a classic double act dilemma, a touch of variety and sprinkle with irony. Bake for 55 minutes. Add laughter, to taste. Best served with tongue firmly placed in cheek. Guaranteed to satisfy most appetites. Try it. You'll probably like it. 'These two make me honk with laughter' (Sarah Millican).
Share this show
Reviews
Press coverage
Full press release
Following their appearances at the Brighton and Leicester Comedy Festivals, female double act Hanks and Conran are delighted to announce their Edinburgh Fringe debut with their new show Pigs In Blankets.
What really goes on behind closed doors? Pigs In Blankets looks at the relationship and chemistry on stage, and off, between Susan (Hanks) and Lou (Conran). When one half never finishes and the other half barely starts, is it ever possible to achieve their quest, of forming the ultimate comedy duo?
During the show, we discover Susan's childhood obsession with a popular 1980's comedian. Lou endeavours to surprise Susan by inviting said comedian to join their show, which falls short of disappointing, and leads to a special guest appearance, of a sort. Almost an hour of stand- up comedy, this is Hanks and Conran doing what they do best. Bantering, bickering, and beguiling, this show promises to leave you as happy as a pig in... well, a blanket.
Susan and Lou (Susan is the taller more severe one (aged 32), Lou is the shorter more special one. (aged 27...+ 10) met on the Manchester Comedy Circuit back in 2005, when they were gigging individually. The night they met, Susan, worked at a school and had just been headed butted by a child and locked in a cupboard. Lou had just been fired for writing a none too flattering blog about the people she was working with, and had managed to leave it out for them all to read.
There a firm friendship was made, only to be deepened by a mutual obsession with curry, beer and a love of manual workers. Whilst bickering back stage in a green room, it was suggested that these two would work brilliantly as a double act, and now they do.
In the short time they've been working together they've performed up and down the country, and have supported Sarah Millican at her new material nights, Sarah Millican and Friends. They are also due to support her on ITV's Celebrity Deal Or No Deal in April.
Credits