Harry Hill showcases his paintings in Edinburgh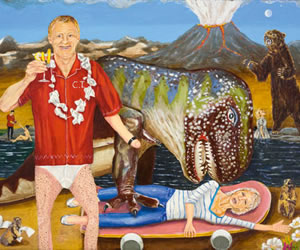 We all know that Harry Hill is great at comedy thanks to the likes of TV Burp, but it's perhaps less well known that he's also an accomplished artist.
The comedian did curate a room at the Tate Britain in 2010, but now his 'secret' is going to be wide out in the open as he's been persuaded to put on a small exhibition of his paintings during the Edinburgh festivals.
BCG headed along to the opening last night. Admittedly, we were initially more worried about how to pretend to look knowledgeable about art - a fake stick-on goatee was briefly considered - rather than wondering what it'd be like. Luckily it turns out Hill's showcase, titled My Hobby, isn't pretentious at all. The themes are all very 'accessible'.
It's free to visit the exhibition and Hill isn't attempting to sell the pieces, they're just for people to enjoy looking at.
The art on show is pretty much all comic - aside from what appeared to be a painting of some atoms linked together, we still can't work out the meaning of that one. A number of the pieces made us chuckle. There's one depicting Saddam Hussein and ET at a BBQ; in another Prince Charles is seen next to a weird teddy-like creature (his new son Parker Bowles-Windsor?!?); and as pictured below, a piece entitled Schofield's Dream depicts a nightmare as experienced by TV presenter Phillip Schofield.
We feel it is our public duty to inform anyone that is considering going, that Chris Tarrant has disturbingly been made the focal point of a couple of the works - and he's not even wearing any clothes in two of them.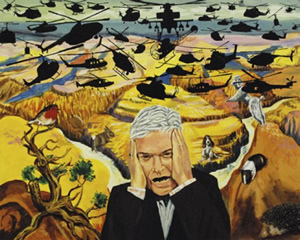 Visitors to the exhibition are given a newspaper-type hand-out featuring a copy of the art. This also includes a conversation between Hill and Glasgow artist David Shrigley. Much of it seems to be about canvases and other arty stuff, but the conversation does reveal that a fellow comedian is inadvertently partly behind why Hill took up art as a hobby. Hill explains: "The breakthrough was doing a Frank Skinner chat show. Instead of getting paid you used to get a present, and the present was some quick-drying oil paints."
TV personalities feature in many of Hill's paintings, which is perhaps explained by the fact Hill says he mainly paints in front of the television. The comedian also elaborates in the interview about his motivations: "People say to me 'why don't you sell them?'. I don't want to part with them really, because I've spent a lot of time on them. Occassionally, if someone has said 'I really like that one', I have given them to people. A couple of people have actually asked me to do a painting for them, of their pet, which I've done once or twice."
He adds: "I appreciate that some of them are better than others. They're particular to me and interesting to me more than anyone else. That's why I never had an exhibition, because I thought there's no point if you're not going to sell them. But I figured, as I'm up in Edinburgh and I'll be around, it might be a nice thing to see what people think of them."
If you're in Edinburgh and fancy checking out the free exhibition, you first have to pass the challenge of finding it. It's on the top floor of a shop called White Stuff - which is located at 89 George Street (the street to the north of the city centre, with The Famous Spiegeltent on it).
Harry Hill - My Hobby is open until Sunday 2nd September 2012.
Note: Hill has also given an interview to the BBC News website, which might be of interest.