Andrew O'Neill
Andrew O'Neill Is Easily Distracted
Stand-up
10:45pm (1 hour)
1-7, 9-13 & 15-27 Aug 2012
11 - 12
This is a 2012 show that has now finished.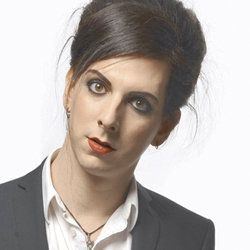 Show details
Stand-up show starring Andrew O'Neill performed on the following days in August 2012...
Mon
Tue
Wed
Thu
Fri
Sat
Sun
01
2
3
4
5
6
7
8
9
10
11
12
13
14
15
16
17
18
19
20
21
22
23
24
25
26
27
28
29
30
31
Venue details
Borderline ADD sufferer Andrew O'Neill tries to stop looking at Slayer videos on YouTube long enough to write another very funny, very odd show. 'Absolutely hilarious' (Neil Gaiman). 'Comedic brilliance' (TimeOut). 'The very definition of Alternative' (Guardian). 'Do not leave Edinburgh without seeing him' (Scotsman). As seen on Stewart Lee's Comedy Vehicle and heard on Radio One and Radio 5 Live. Sponsored by Withered Claws.
Share this show
Reviews
Press coverage
Full press release
Metal-head transvestite anarchist vegan comic Andrew O'Neill is back at the Edinburgh Fringe with a new show entitled Andrew O Neil Is Easily Distracted. This year, in a quest for enlightenment, Andrew splices together random thoughts, snippets of overheard conversations, songs and adverts for withered claws. The ultimate extension of the cut-up technique, Andrew includes all the different types of comedy: political, surreal, silly, serious, offensive, charming. Like all your favourite comics put into a blender. Or something.
There is actual singing, some mime, considerable shouting and a meditation on the decline of heavy industry in the North of England. It's a laugh riot. Andrew talks about the real birthplace of Christ, the fact that sex is really very brilliant, how he's worried that he might be wrong about there being no Gods (plural) and talks sensitively and delicately about the controversial issue of Goblin Farts. He tells you how spice up your boring job by telling lies and proves that Justin Bieber is the very centre of all meaning.
Since his Edinburgh Fringe appearance in 2009 with his critically acclaimed show Occult Comedian, Andrew O'Neill has performed stand-up on the televised Melbourne International Comedy Festival Gala and Good News Week, appeared as a guest panelist on Spicks & Specks and was one of only three comedians to film guest appearances on Stewart Lee's Comedy Vehicle. In February 2011 he staged a one-man takeover of the Radio One Rock Show.
2012 will be his 9th consecutive Edinburgh Fringe - in the last two years he has played at Melbourne International Comedy Festival (twice), Adelaide Fringe (twice) and New Zealand International Comedy Festival. This and last year saw Andrew tour his show Alternative across the UK. He is a huge hit with both the comedy and the heavy metal and rock communities - last year he was MC at Sonisphere, the headline act at Download Festival Comedy Stage and co-host of the Metal Hammer Golden Gods Event with Alice Cooper.
---
Tweets by destructo9000