Alistair Barrie
Alistair Barrie: Urban Fogey
Stand-up
6:50pm (1 hour)
1-12 & 14-26 Aug 2012
8.50 - 11
This is a 2012 show that has now finished.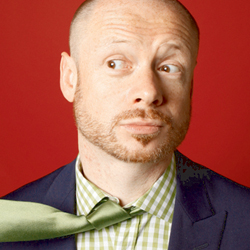 Show details
Stand-up show starring Alistair Barrie performed on the following days in August 2012...
Mon
Tue
Wed
Thu
Fri
Sat
Sun
01
2
3
4
5
6
7
8
9
10
11
12
13
14
15
16
17
18
19
20
21
22
23
24
25
26
27
28
29
30
31
Venue details
The List called Alistair Barrie a 'Comic Dandy'. He prefers 'Urban Fogey'. The Independent went with 'Excellent'. Come and see why. **** (Chortle.co.uk). **** (Metro). **** (ThreeWeeks).
Share this show
Reviews
Full press release
No Pressure To Be Funny writer and performer Alistair Barrie makes a welcome return to the Edinburgh Fringe after a two-year break with his new show entitled Urban Fogey. Al is one of the few topical comedians performing today and is also a regular at The Comedy Store's Cutting Edge Show.
Alistair is getting that little bit older, and lives in a city. He rather likes good tailoring and nice shoes but sometimes wishes he was down with the kids, which proves he isn't. Alistair also likes hats, but this might just be to keep his head warm. He is on Facebook and Twitter despite a nagging anxiety that he doesn't understand them, nor they him - he has never organized a riot, but feels fairly certain that it would not end up in Footlocker if he did. He is quite angry, but then most people are these days. Is Alistair a superhero ready to tackle the big questions such as can technology save us, will the Euro survive and are there any wars we've forgotten to have, or is he merely a misplaced food blogger in a slightly effeminate jacket?
Urban Fogey aims to answer these questions, and many more, by discussing the perils of coasting into middle age in a youth obsessed culture that seems to despise its youth, as well as everyone else, but still has the potential to be, well, you know...quite decent really.
Since his 2009 Edinburgh show Happiness, Barrie has made a name for himself, not only as one of the best headliners on the circuit, but also as co-originator of No Pressure To Be Funny; a monthly topical panel show with guests drawn from the arts, media and politics who discuss current affairs in front of a live audience alongside comedy songs, monologues and diatribes.
No Pressure To Be Funny, now in its third series, has gained a huge fan base via its podcast, and has attracted an eclectic and diverse line-up of guests including Jack Dee, Andy Hamilton, Alexei Sayle, Ken Livingstone, Rich Hall and Miranda Sawyer.
Fans will be pleased to hear that as well as his solo show in Edinburgh, Alistair and co-founder Nick Revell, alongside LBC's James O'Brien, will be hosting Amnesty International presents No Pressure To Be Funny on 18th August at the EICC in association with the charity. There will be a special festival podcast, and all profits from the show will got to Amnesty International'.
Alistair also appeared on the Jimmy Carr special of Deal or No Deal this Spring.
---
Tweets by AlistairBarrie