Scott Capurro's Position
Scott Capurro's Position
Chat show
4:15pm (1 hour)
3-29 Aug 2011
11
This is a 2011 show that has now finished.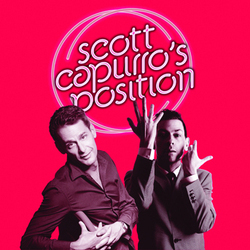 Mon
Tue
Wed
Thu
Fri
Sat
Sun
03
4
5
6
7
8
9
10
11
12
13
14
15
16
17
18
19
20
21
22
23
24
25
26
27
28
29
30
31
1
2
Venue details
Comedy chat show hosted by the sharp-edged and riotous Scott Capurro. Ably supported by droll second banana David Mills, Capurro interviews the hottest performers in Edinburgh. With new guests every night expect hilarious banter and exclusive insider gossip. For more information, photos, a video (seriously!) and reviews and other quotes and stuff, go to the website and we'll see you there, iconoclasts.
Share this show
Reviews
Full press release
Razor-sharp comic Scott Capurro takes his critically acclaimed live comedy chat show to the Gilded Balloon at the Edinburgh Festival Fringe with the latest winner of New Act of The Year 2011 (formerly the Hackney Empire New Act of The Year), David Mills.
Scott Capurro's Position promises scintillating chat, along with fantastic musical numbers and a signature style that leaves no sacred cow un-skewered.
Capurro deploys his coruscating charm to draw-out the most personal revelations from his guests about their lives, their careers and their ambitions. It's both side-splittingly funny and incredibly astute.
Each show kicks off with Capurro and Mills' signature banter; then each guest is interviewed and sometimes slowly tortured, individually, by Scott. The guests that appear in Scott Capurro's Position, don't feel constrained by speech codes or the need to appease advertisers so they can relax their media persona entirely and instead be as uncensored as they like. It feels like an after-hours chat with friends away from the kleig lights and pressures of the 24-hour red carpet media circus. It's amazing how candid celebrities can be when they're relaxed, mildly amused or merely having fun!
Musical numbers by David Mills punctuate each act and star guests play intimate sets after chatting 'on the couch' with Scott. Previous guests on Scott Capurro's Position include: Michael Barrymore, Lembit Opik, Mark Gatiss, Ken Livingstone, Graham Norton, Vivienne Westwood, Boy George, Claudia Winkleman, George Galloway, Phill Jupitus, Heather Small, Julian Clary, Matt Lucas, Britt Ekland, Nancy Del Olio, Peter Tatchell, Alan Davies, Steven K Amos, David Baddiel, Nicholas Parsons, Omid Djalili, Josie Long, Christopher Biggins and Beverley Knight among others.
Scott has written for several newspapers, including The Guardian, The London Times and The Scotsman; and for various magazines, like The Index on Censorship, which isn't half as stuffy as it sounds. Kidding. It actually is. His book, Fowl Play, a comedy novel published by Headline Publishing in London, received good reviews and it is out of print. Currently, he's working on a second novel about the making of a Broadway musical, entitled Runt. And there's a third novel, Loaded, based on his play about his correspondence with criminal Erik Menendez. Wait, it gets better: His stand-up CD, some of which is included in his web site, was recorded and then released in the UK, his second home, to enormous fanfare, and very limited sales.
Scott is also a veteran of our TV screens - he has appeared on such shows as C4's 8 Out Of 10 Cats, BBC1's The Stand-Up Show, hosted Is That It? for MAI United, and captained a team on the Channel 4 quiz The Staying In Show. A diverse performer (read: difficult), Scott's talents were also incorporated into Star Wars Episode One: The Phantom Menace.
The American-born comic, David Mills brings an unusual form of comic relief to Scott Capurro's Position, mixing cabaret-style storytelling in with his jokes. David has been a cabaret performer for over a decade, smoothly and successfully switching to comedy over a year ago. Although his comedy career has been short, David has already won New Act of the Year 2011 at the Barbican and acclaims himself to be 'the hardest working cabaret personality in show-business'. Mill's classic mix of sharp, uproarious rants and unexpected musical covers magnificently compliments Scott Capurro's Position. Together the duo provides the audience with witty banter, ample entertainment and uncensored celebrity juice!
Credits