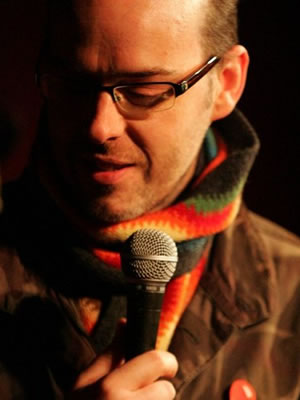 Seymour Mace's Happypotamus at first does not seem at all happy, dealing as it does with subject of the performer's own clinical depression. However, with the dark does come moments of joy.
The inspiration for the show comes from Mace's time at the Fringe last year. He became so depressed during the run that he encouraged his audience to tell him the things that made them happy. This led him to attempt to find happiness wherever he could find it, while also exploding into fits of rage and sadness.
This rage is evident during many parts of his show, as he talks about some of the darker incidents of his life; such as how he nearly killed himself and two Australian comedians while driving to King's Lynn. Then there was the time he spent living in Central London with four other comedians (including a drill-wielding Henning Wehn), during which there was some mistreatment of his sponge-scourer.
For me the highlight of Happypotamus is when Mace talks about how he first attempted to treat his depression with anti-depressants, which leads to a brilliant routine about the side-effects that they can and did cause.
This show is not just about depression, but the ways of recovering too. Mace uses art, poetry, dance, "impressinations" and some audience participation involving balls to cheer everyone up.
Mace's performance is manic and gripping. It will leave you wanting more... and wanting to refer to everyone in The Apprentice by the c-word.