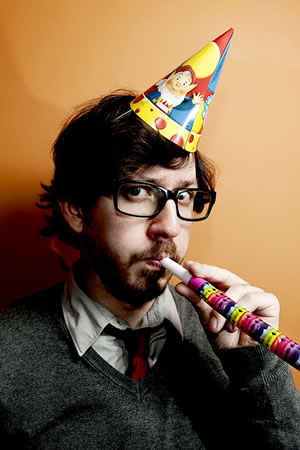 Exactly what would you expect from an Adventure Party? The debut solo show of Matthew Crosby - one third of sketch group Pappy's - asks this question at the very beginning and so excited with anticipation was one lady, she fell off her stool. The fact her husband didn't help her get up but Crosby did, encapsulates my feelings about the show in one action - lovely.
I was interested to see Crosby on his own for an hour without the support of Pappy's next to him, and he didn't disappoint. A charming performer, he immediately wins his audience with his warmth and genuine likability.
The content of his show is hard to describe. It's about the various stages of his childhood in Bromley, deciding if he is nerdy or geeky (yes, they are two distinct things) and, doing a great service to advertising, he discusses his infatuation with the restaurant chain Nandos.
He uses PowerPoint slides throughout the performance (the nerdy dominant side coming out here) to great effect, and there are some real laugh-out-loud moments.
It's a skill to make people laugh with simple stories about how your Grandma knitted you a special jumper when you were a child, or achieving a full house on restaurant loyalty cards. Crosby has this ability in bounds. He is a natural on the stage and his is a welcome break from the traditional stand-up show.