Matthew Crosby
Matthew Crosby: AdventureParty
Stand-up
4:45pm (1 hour)
3-15 & 17-29 Aug 2011
12
This is a 2011 show that has now finished.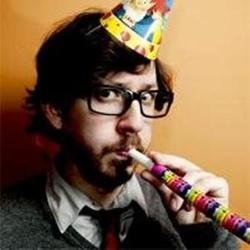 Show details
Stand-up show starring Matthew Crosby performed on the following days in August 2011...
Mon
Tue
Wed
Thu
Fri
Sat
Sun
03
4
5
6
7
8
9
10
11
12
13
14
15
16
17
18
19
20
21
22
23
24
25
26
27
28
29
30
31
1
2
Venue details
Matthew Crosby, the short one with the glasses from sketch favourites, Pappy's (if.comedy Award nominees, Chortle Award winners), presents his debut solo show, AdventureParty. Is it an adventure? Is it a party? Is it neither? Come find out. Matthew has written for and performed in a number of TV and radio shows including The Now Show (R4), The Kevin Bishop Show, Robert's Web (Ch4), Ask Rhod Gilbert (BBC1) and The King Is Dead (BBC3). A rising star (BBC Culture Show), 'Intriguingly Matthew Crosby from Bromley is also a comedian' (What's On in Kent Magazine).
Share this show
Reviews
Press coverage
Full press release
Matthew Crosby is proud to present his highly anticipated debut full-length solo show at this year's Edinburgh Festival Fringe.
This a stand-up show from Edinburgh's favourite geek (with a Powerpoint presentation of course) all about his love of Bromley and Nando's (and quite possibly, his love of Nando's in Bromley too); an hour of quality comedy interspersed with short playlets, readings and even a few moments of lo-fi theatricality.
A must for any geek desperate to prove that they're not a nerd.
Matthew is probably best known to Comedy lovers as 'the tragic geek' from the hugely popular sketch comedy act Pappy's who have been performing together since 2006, gaining acclaim from both critics and audiences along the way. Pappy's have won and been nominated for numerous Awards including Chortle Best Sketch, variety or character act 2008, Chortle Best Newcomer 2006 (Nominee) and If.Comedy Best Show 2007 (Nominee)
Matthew's TV credits include Jamie Oliver's Christmas Lock In, Meet The Parents, the Mr & Mrs. Hotty Hott Hot Show, Robert's Web and Trinny and Susannah: From Boom to Bust (all for Channel 4); and Culture Show, Winging It (both for BBC2).
He has numerous writing credits which include: 24 Hour Panel People (BBC1 and BBC Online), Great Movie Mistakes 2: The Sequel and The King is Dead (both BBC3), The Kevin Bishop Show (Series 1 and 2) (Channel 4) Ask Rhod Gilbert (BBC1) and The Now Show (BBC Radio 4).
---
Tweets by matthewcrosby
Visitor reviews