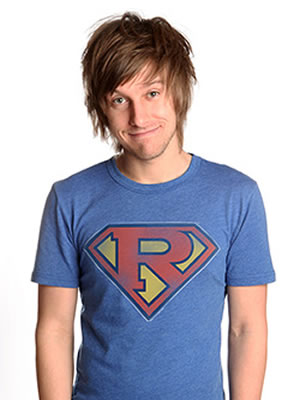 If you require a man who is enthusiastic, meaningful, incredibly friendly, full of cheeky charm, and hugely funny, Chris Ramsey confidently gives every box a large tick.
Offermation (a word used to describe information given without being asked for) is the story of Chris receiving round robin letters in the post featuring pointless news, and how he learns to take joy from all this worthless correspondence. Ramsey's message, in essence, is to embrace the unknown and to take pleasure from the smaller things in life.
His presence and delivery is reminiscent of comics like Daniel Kitson or Dave Gorman, even a jocular tone and technique not far from Russell Howard. Ramsey's delivery is a little more in-your-face than Kitson and not as wacky in plot as Gorman's past ventures, but I can see glimmers of similarity. Ramsey delivers a whimsical, flowing story with superb bursts of energy resulting in constant smiles, deep belly laughs and plenty of leaning forward in your seat.

Ramsey hardly went off topic and, on those rare occasions he did, it was for a quick relevant joke or, in the case of the day this review was conducted, to eat a Percy Pig sweet offered by an audience member. Never having tried one before, he had no idea how chewy they were and spent nearly a minute trying swallow the thing before carrying on. Eating a sweet isn't a joke but he made it funny, showing his natural gift for milking comedy out of any situation.
Determined to bring happiness, Ramsey manages to find comedy in some of the smallest and most unlikely areas, but scores high each time. It was a well-paced set and he grabbed and held the audience's attention from start to finish. Make sure an hour of your festival is put aside to see this man; a sure-fire big name in the future.