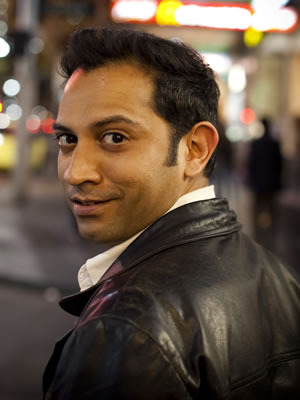 You may know him from the award-winning BBC sketch show Goodness Gracious Me, but to regulars at the Edinburgh Fringe Festival, Anil Desai is a byword for stand-up, character comedy and cabaret. His 2011 show, Anil Desai Is... puts the spotlight on all these forms. Lucy Wood finds out more...
What can we expect from your show this year?
It's fun-filled, with lots of different forms of comedy, using stand-up, stories, impressions and characters all connected through real-life feelings and moments I've had in my recent life, exploring the different sides of being human - without being heavy about it.
How do you decide what material stays in and what goes?
You try it a few times and if it doesn't feel right or get a response you want, then it soon becomes a glitch you'll want to fix or drop completely. Sometimes you want your dickhead mate to come to the pub because he makes you laugh, and sometimes you don't, because he can make things awkward - it depends on the night.
If you were allowed to perform only one more impression ever, what would it be?
Ooooh, that's a really tough choice - great question! Hmmm, I'm gonna go with Captain Jack Sparrow. He's a lot of fun, he hangs out drinkin' with his mates but he's confident on his own, he's rock 'n' roll, he travels the world, seems to get away with most things and has a different woman in every port - just like me, well, except for the 'different woman in every port' bit. I have just one woman for me out there, but I have no idea which port she's in.
Is it an advantage being able to stray into the cabaret/burlesque genre?
Absolutely. It's a lot more colourful and diverse in those genres of entertainment, and you often see things you don't see elsewhere.
It also opens your mind and experiences to the many different sides of performance, which is what I'm playing with in my new show.
Who were your idols as your career was developing?
I wouldn't say idols, but influences and inspirations have been varied, from Johnny Depp, Robert De Niro, Elivs, Bruce Lee, Gandhi, Jim Carey and Eddie Murphy to comedians closer to home and festival veterans, favourites like Phil Nichol, Steve Hughes, Rhys Darby, Richard Glover and Oram and Meeton.
Did you ever imagine this would be your career? What did you want to be when you were small?
Actually, I did, yeah, maybe in a different way. But when I was small, I knew I would have to cross this bridge one day, to do live comedy, as the idea of doing it scared me more than anything else - and now I do it around the world, it's still quite unbelievable and surreal sometimes.
What do you like about performing at the Fringe? What's the best part of the festival, and the worst?
The atmosphere here is unlike anywhere else, which can be quite magical and overwhelming, but it's not easy either, so you're really given a good work-out here. It's a great festival to grow in and through; most shows are quite different from your first day to the last days here. They change and feel different.
The best part is seeing friends from years before or from overseas who all gather here for this one intense month; it's a wonderful network of connections and a community that works hard, is very supportive and loves to party too.
The worst is when you are giving everything you've got and the audience are just too drunk, hot or exhausted to care. It's hard; it feels like going to work when it should feel like play time.
How will you relax?
I like to go for walks in the Meadows, eat out with friends, catch up on some DVDs and sleep as much as possible... just stay indoors, away from the hustle and bustle, and switch off my phone and internet.
Will you be seeing any acts yourself?
Yes, but as my schedule is so busy, I will mostly only get to see the acts I'll be doing gigs with at late shows and as guests on chat shows.
There are a number of shows that have been recommended to me, which I haven't had the chance to see yet. Among them are Michael Winslow, Diane Spencer, Set List, Rich Fulcher and Neil Hamburger.
What does the future hold after Edinburgh?
I've been invited to South Africa for some shows and will mainly be featuring in runs of three different live shows in London between September and December, at The Pleasance and the Brickhouse, along with gigs around the UK.
I'm also filming a new series for CBBC and writing my own pilot TV show, so not much at all really.
What advice would you give to any aspiring performers reading this?
Stop talking about it, get on with it, don't worry about it, embrace it and dive in with everything you've got; it's a deep, vast ocean that spans an entire globe, and it's full of many mysterious things you'll encounter, some good, some bad, some will blow your mind. Stay connected with those good people you meet, be your best self, look out for sharks, parinhas and leeches.
It's your life, go and do it your way... and remember to come up for air every now and then, and breathe.
And finally, how would you like to be remembered?
Hopefully, I'll inspire others as I have been inspired by so many before me. We all remember people in different ways - I hope one of those ways would still make them laugh in many years to come.
'Anil Desai Is...' is on until 28th August at the Gilded Balloon at 7:45pm