Roisin Conaty
Roisin Conaty: Hero, Warrior, Fireman, Liar
Stand-up
6:15pm (1 hour)
5-15 & 17-30 Aug 2010
8.50 - 9.50
This is a 2010 show that has now finished.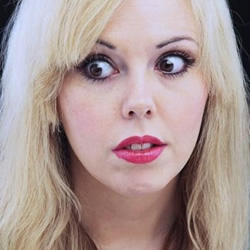 Show details
Stand-up show starring Roisin Conaty performed on the following days in August 2010...
Roisin won the Edinburgh Comedy Award for Best Newcomer for this show. Full Story
Mon
Tue
Wed
Thu
Fri
Sat
Sun
04
5
6
7
8
9
10
11
12
13
14
15
16
17
18
19
20
21
22
23
24
25
26
27
28
29
30
31
1
2
3
Venue details
Roisin received an invite to give a talk to the new graduates at her convent school. After checking there was no mistake, she poured herself a large Ribena and got to pondering. What pearls of wisdom did she have? What happened to her dreams? WTF happened to Nashville? Love, death and magpies will all be mentioned. Should be a laugh.
Share this show
Reviews
Press coverage
Full press release
Earlier this year, Roisin Conaty received an invite to give a talk to new graduates at her old convent school. After tiring herself with a dance of validation, she took it as an opportunity to evaluate her life thus far.
In her Festival Fringe solo debut Roisin Conaty - Hero, Warrior, Fireman, Liar, Roisin looks at how the world has changed in those years: from the political euphoria of 1997, her last year in school; to the doom and gloom of 2010. She looks at how we, as individuals, change; and the parts of us that stay the same no matter how hard we try. Has technology brought us closer together or are we all just screaming into the ether looking for some semblance of meaning in a Godless world. Should we all learn just to 'accept' ourselves as we are? Faults and all? Really? Even if you are a bit of dick?
Supported by the self proclaimed 'Queen of Fringe' Jackie Hump (who also looks conspicuously like Roisin), Roisin asks has her life actually taught her anything of consequence? If so why is she still as confused about everything from love to money as she ever was? What does she actually know for sure aside from that fringes don't suit everyone?
A regular on the stand-up circuit, Roisin is also an established writer and performer. Recent credits include Radio 4's Sony Award nominated Lawrence and Gus: Hearts and Minds, whilst other broadcast credits include Transmission Impossible, a Comedy Lab show for Channel 4 and Meet the Blogs, a pilot for Baby Cow Productions.