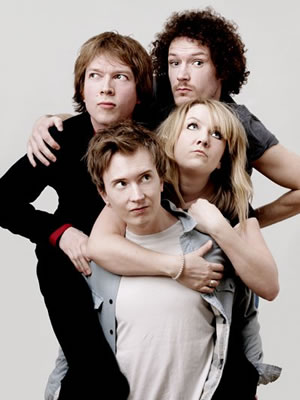 I first saw Delete The Banjax when they were even younger than they are now (impossible, I know) and loved their delightful, infectious enthusiasm for larking about. And I was relieved to discover, a year and a bit on, this is still the case. I can honestly say I've never found a sketch group quite so endearing as this bunch.
From the moment you walk into the room, they're there dancing away and encouraging you to have a good time. They give you crayons and paper to draw pictures, which get pinned up to the set. Their sketches are sweet and almost whimsical in nature (perhaps you can see the influence of director Tom Bell here). The skit where they become singing goldfish is utterly charming, and the one where a couple disagree on marriage mid-parachute jump is hilarious.I loved the Australian relationship counsellors who are evidently going through issues themselves; it was so nicely set up and performed.
Each one has an individual style and makes a different contribution. Daniel Cook is my personal stand-out performer, mainly because his persona is absolutely crazy and over-the-top. He's a joy to watch, and his apparent pleasure in messing about - and messing the others up - is jaw-achingly funny. Gareth Cooper and Samuel Champion are saner (and this is necessary), both brilliant in their comic timing. And Caroline May-Jones has an array of comic facial expressions worthy of taking note.
Simply put, Banjax are adorably funny... although, when they swear I find it inexplicably shocking, and makes me giggle for that fact alone. I left grinning from ear to ear, completely refreshed after a tiring first day at the festival, and continued to grin for hours afterwards. Out of all the young talent out there, I genuinely hope these four are destined for big things - they really do deserve it. I don't give out top marks much, but on this occasion they go straight to the top of the class.