Lewis Schaffer
Free Until Famous With Lewis Schaffer
Stand-up
7:30pm (1 hour)
5-29 Aug 2010
Free
This is a 2010 show that has now finished.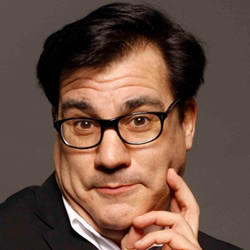 Show details
Stand-up show starring Lewis Schaffer performed on the following days in August 2010...
WARNING: There has been a mix up on the time the show starts. See Such Small Portions feature below.
Mon
Tue
Wed
Thu
Fri
Sat
Sun
04
5
6
7
8
9
10
11
12
13
14
15
16
17
18
19
20
21
22
23
24
25
26
27
28
29
30
31
1
2
3
Venue details
London-based New York comic is free until he becomes famous. **** 'Almost every laugh he gives us he then tops with another, bigger laugh. His jokes might have another comic arrested' (Scotsman). **** 'Electric, connecting bang on the funnybone' (Chortle.co.uk). **** 'Power to shock' (List) and 'Controversial. Warning: Unpredictable. Recommended' (Time Out). A Malcolm Hardee Award winner, 2009.
Share this show
Reviews
Press coverage
Full press release
Lewis Schaffer is not famous. The fastest-talking, most highly-acclaimed New York comic living in the Peckham suburb of Nunhead, returns to Edinburgh with more potent political and social satire, shot through with the personal trauma that is his life.
Lewis Schaffer was one of the top comics in the home of stand-up comedy, New York City, as house MC at the Comedy Cellar and the Boston Comedy Club in Greenwich Village but he was not famous.
A short visit to London in 2000 went very wrong. Love and marriage took him from his beloved New York and gave him children, heartache and divorce in the UK. Last year, Lewis Schaffer was trapped in a multi-occupancy council flat in Nunhead. This year, with debts mounting, income falling, and death nearing, he fights for the fame he needs to survive.

"Almost every laugh he gives us he then tops with another, bigger laugh. His jokes might have another comic arrested but it made me laugh." **** [Four Stars]
Kate Copstick, The Scotsman - 2009
A tour-de-force performance from a comic who's been on the ropes but definitely come back bigger and bolder, connecting bang on the funnybone." **** [Four Stars]
Jay Richardson, Chortle - 2009
"Egotistical and vulnerable, almost at the same time.'
Steve Bennett, Chortle 2009
'Lewis Schaffer has a unique style -
he can insult you and love you in the same sentence.'
John Hart, Time Out New York
"Possibly the most unpredictable comic at the Fringe. In short, he is unique."
Tim Clark, The Stage 2009
"Critic's Choice"
Time Out London, The Times UK, Evening Standard London