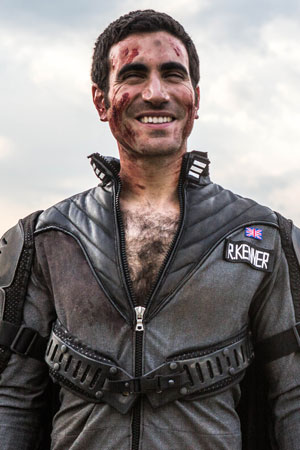 Hi Brett. Could we ask you to introduce SuperBob in your own words?
Robert Kenner is a lonely man looking for love who lives in Peckham. He also happens to be the world's only superhero.
SuperBob is a romantic superhero comedy about Bob's one day off and his first date in 6 years.
The project has been in development since 2010. Has it been a frustratingly slow process?
From initial idea (which we made as a short) to the film coming out, it has been almost exactly five years. Which may sound long. But in filmmaking terms is actually quite quick! Making a film is such a massive undertaking, that eventually involves over 200 people. Although that is a long time, each part of the process is not.
The script was developed over two years. There were so many different versions of the story and you keep finessing it because you want it to be the right one. The shoot was not long at all! We filmed all of it in 18 days, which is a miracle really. A lot of that was due to the 1st AD Andy Gradwell being very smart.
Then we edited it for a year. Getting the tone and balance of the comedy and the emotional beats was very tricky. There were versions of the film that were broader but you cared less, and ones where it was too sad and you never laughed. The final cut is the one we feel is the perfect balance. Then it was a year doing festivals and picking up awards and generating interest. And now we are here. No time at all!
Wow, very quick shoot! What was it like to film?
The shoot was fxxxing amazing. Literally a dream come true. The cast and crew all believed in the thing we were trying to make happen. Everyone pulling together. Loads of improv. And some magic. It was the best creative experience of my life.
What was it like to film with Catherine Tate?
Catherine, Jon (the director) and I all clicked almost immediately. We were worried she might be intimidating as she is so much more experienced. She was in fact a total delight and made us all feel very safe. We laughed most of the time.
We're guessing most actors secretly harbour a desire to play a superhero - albeit in this case not a glamorous Hollywood one!
Yeah. I have to say the first time I put that uniform on...It does make you walk a certain way... Mostly cos your nuts are being squashed. But it also makes you feel powerful. I might stick a cape on all my clothes.
You feel pretty cool.
Aside from Bob Kenner, who's your favourite superhero?
Batman. I always liked Batman. I like my superheroes tortured and emotionally xxxxed up.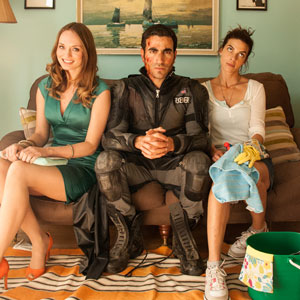 If Batman, Superman and SuperBob had to fight each other, what do you think would happen?
Batman would repeatedly punch Superman in the face until his hand broke while SuperBob stood near them going, "Come on guys, we've all had a drink. Why don't we all have a cup of tea and try to talk this out?" Then Superman would turn on SuperBob and they would have to fight for hours while Batman watched. And every time SuperBob punched Superman, he would say, "I am so sorry, I really don't want to do this, please excuse me."
If you could have a superhero power, which would you pick and why?
Everyone chooses flight. And I don't blame them. But the one power you really need is psychic power. If you can see the future, you can stop bad things from happening. If you can fly but you're not psychic, you will just get to places where terrible things have already happened faster.
I guess what I'm saying is Derren Brown is the real hero.
What's next for you?
We've just finished Series 2 of Hoff The Record. I've co-written some Nan specials with Catherine and they'll come out around Christmas. I have three other projects I'm developing. And will continue with stand-up. I want to make another film. In hopefully slightly less time. Say 4 and a half years, yeah.
SuperBob is in cinemas from Friday 16th October, and also available online from the same date with exclusive behind the scenes extras, bloopers and deleted scenes on WeAreColony.com