Chris Morris wins BAFTA film award for Four Lions
Chris Morris wins BAFTA film award for Four Lions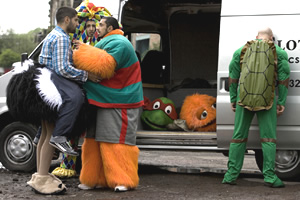 Controversial satirist Chris Morris was one of the winners at the 2011 BAFTA film awards last night. He was awarded a prize for his direction work on Four Lions (pictured).
The film, which is about four inept Islamic terrorists, won Morris the 'Outstanding Debut by a Writer, Director or Producer' award, which was presented by Kevin Spacey.
Morris was not at the ceremony, so the award was picked up by two of film's stars - Nigel Lindsey, who played the seemingly psychopathic Islamic convert Barry, and Adeel Akhtar, who played slow-witted Fessal in the film. However, Morris did send the actors a text message to read out, which read: "Dowsed in petrol. Zippo at the ready."
Four Lions was also nominated for 'Outstanding British Film', but lost out to The King's Speech, the movie which picked up most of the awards on the night.
It should be noted that Four Lions is not actually Morris's film debut. He has previously written and directed a short film entitled My Wrongs #8245-8249 & 117, which is based on a sketch from Morris's 1997-1999 Radio 1 sketch show Blue Jam. My Wrongs won the BAFTA for 'Best Short Film' in 2003.
Share this page