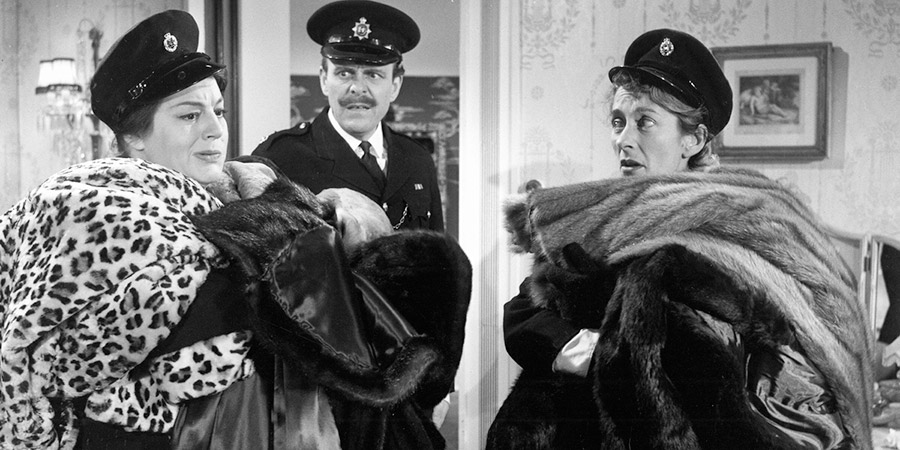 Genre

Film

Released

Creator

Starring

Terry-Thomas, Athene Seyler, Hattie Jacques, Billie Whitelaw, Jack Hedley, Raymond Huntley, Irene Handl, Sydney Tafler and others

Writer

Director

Producer
Elderly Dame Beatrice has somehow ended up running a genteel boarding house from her plush Kensington flat. Assisted by her reformed ex-con maid, Lily, she plays host to Major Rayne, who's been directionless since the end of the War; Miss Parry, an etiquette teacher with too few clients; and the slightly dotty, nervous Miss Pinkerton.
One day overhearing an argument between a couple in a neighbouring flat in which an expensive mink coat is thrown out, Lily picks it up and presents it to Dame Beatrice as a gift, thanking her for her continued trust and chances to reform herself after her time in prison. But the others are worried that, should their neighbours, the Spanagers, decide they want the coat after all, she could be liable for theft. There's only one solution: return it before they notice it's been taken.
Concocting a ruse to distract the quarrelling husband and wife whilst the coat is returned, the flatmates, to their surprise, find they have enjoyed the task and found some level of fulfilment in their respective roles - even though the operation doesn't go entirely to plan!
Otherwise existing rather aimlessly, why, the group wonder, can't they put their new-found abilities to use and steal mink coats rather than returning them? Dame Beatrice is keen to keep donating to a nearby orphanage, so selling the goods on can prove only beneficial...
UK certificate

U

Duration

101 minutes

Release date

Tuesday 9th August 1960

Distributor

Production company

Picture

Black and white

Laugh track

None
Broadcast details
Last repeat

Sunday 8th December 2019 at 9:25am on TPTV
Website links