Meaty Drama
Exploring the hyperspaces between comedy, cult films and other cool stuff
Does a G*me of Thr*nes comedy dining experience make them the new Night Kings?
It probably hasn't escaped your notice that arguably the most epic TV series ever came to an end recently. Line Of Duty season five? The Big Bang Theory? Martin Clunes' Warren? No, it was the one with the dragons and the ice zombies and the magic spy ravens and him from Robson & Jerome getting up to all sorts of saucy bedroom business. You know the one.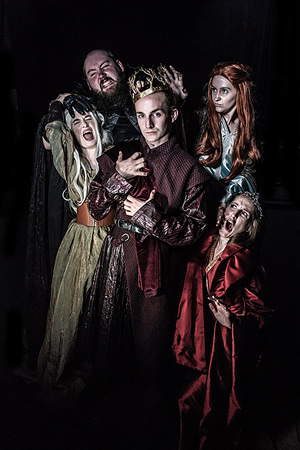 Which brings us to Dinner is Coming, which is heavily indebted to that series too, but gives it a right good shafting - with love - for comic effect. This is a new entry into the enduringly popular comedy dining genre, and that immersive element works pretty seamlessly here, as G*me of Thr*nes had more dramatic dinner scenes than every Nigella and Delia series put together; although those scenes usually ended in almighty bloodshed. It's probably not too big a spoiler to reveal that this one does too.
We're the invited guests at the wedding of Margarine and Jaffrey, who is an absolute grade-a tool and - in the best traditions of G*me of Thr*n*s - gets his just desserts before the starter has even arrived. And so begins an enjoyably convoluted romp as the rival clans attempt to woo we diners over to their camps, while we head up to the dining room and get cracking on a suitably epic banquet: a 'wildfire bouillon' for starters then seemingly infinite chicken wings atop mighty shoulders of lamb and great wads of mixed bean and sweet potato pie, and for afters... well, we'll come back to that.
Dinner is Coming takes place at London's Vault Theatre, in a bunch of old railway arches that could easily be the underbelly of a mythical castle as you wander through the tunnels to and from the two main action areas. For most of it we're sat at huge tables chatting - or conspiring - with fellow diners, while the (surviving) actors engage in much faux polite politicking and some absolutely corking swearing.
That's the thing with a Thr*nes pastiche - you can be pretty sure that everyone here is a fan and therefore is pretty inured against a liberal use of f-bombs and c-bombs. And they really go for it on this particular Friday night.
It's all thunderously good fun - particularly thunderous when a train rumbles overhead and adds an ominous hint of potential dragon - and they get the balance just about right, between the corpses and the corpsing. There are enough knowing references to keep pining Thr*nes addicts happy, while its broad enough to appeal to any bewildered partners who've been dragged along too.
Of course, the problem for any non-devotee at such events is that you'll probably assume that everything is an in-joke when actually it's just random larking about. And the conversation may pass you by, a bit, as everyone else will probably be talking about that contentious last series. Still, at least everyone seems to agree on one thing here: that dessert. At one point one of the splendid tiara-clad sisters sitting opposite us can't contain herself and joins in with the actors' mock arguments by loudly declaring that "The pears are shit!" which causes quite a stir.
Still, those pears are the only sour note, and the whole thing comes to an enjoyably heady climax. The thing is, these comedy dining shows are a lot more sociable than most theatrical events: those sisters opposite us hadn't seen each for ages, for instance, but with most shows they'd have to sit in silence. At this one banter with your neighbours is actively encouraged, and it's easy enough to strike up a chat with strangers because you've all got at least one thing in common: sitting through eight seasons of G*me of Thr*nes.
Mind you, Thr*nes isn't actually the best-rated series nowadays, of course, as that much-pilloried final season coincided with the emergence of a new must-see drama. Anyone fancy the Chernobyl Dining Experience? Don't hold your breath.