MCM London Comic-Con 2019
Exploring the hyperspaces between comedy, cult films and other cool stuff
Big names, big costumes, and lots of local talent at the cult-stuff showcase.
One of the major highs of MCM Comic-Con is the journey. Not 'journey' in the Britain's Got Talent sense, but the actual journey, which gets increasingly entertaining the closer you get to London's huge Excel Centre, on the sunny Saturday morning that Rogue Pun pitches up.
First there's a spectacular witch-like lady from Dungeons and Dragons standing proud at Tottenham Hale, then we both follow The Joker towards Stratford, meet niche characters from X-Men spin-off Legion and video game Fallout on the DLR, then fans dressed as pretty much everything on the ramp up to the Ecxel, the British geeks' answer to Wembley Way. It is absolutely tremendous.
Glamour and Glitches
This bi-yearly event is where London's cult fans and creators come together, and there are numerous actual big-name characters occupying the stages and autograph booths: Sebastian Stan, aka the Avengers' Winter Soldier; several members of the cast of Kevin Smith's Clerks and DC's Arrow, and David Harbour from Stranger Things (who was also the star of the recent London-based Hellboy reboot, which we're all now pretending didn't happen).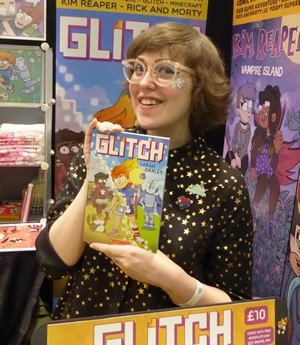 And a lot more besides. Indeed, this year we decided to take a deeper dive into the Comic Village, where you'll find a bunch of UK creators doing rather well here and on high-profile US stuff. Sarah Graley, for example, has a fairly constant stream of punters at her booth, having made her name with the consistently fun webcomic Our Super Adventure.
Graley's is an interesting DIY tale: she won an Emerging Talent award in 2015 at the 2015 British Comics Awards for her self-published web-comics, and "ran a Kickstarter for a big collection of my Our Super Adventure comics in that same year, and it was really successful," she tells us. "It lead to my editor at Oni Press, Ari Yarwood, getting in touch with me about doing some Rick and Morty comics..."
This year Graley is probably most keen to plug her new graphic novel, Glitch, and we'll get back to the full interview about next week. We let her get back to the signing and costume-spotting. Last year she met fans dressed as characters from her other best-known comic, Kim Reaper, one of them "complete with a giant homemade scythe!" she laughs. "It was so surreal and cool. I couldn't believe it."
Tharg at Large
That UK/US crossover is a bit of a theme for us this year. Even Rogue Pun's picture guy gets involved, sporting a t-shirt he'd designed in homage to a US podcast about HP Lovecraft. Then that UK/US crossover again rears its heads as a couple of comic legends are interviewed at the Creator Stage. And for those of us who grew up with comics, this duo is arguably more exciting than seeing the Hollywood actors on stages elsewhere.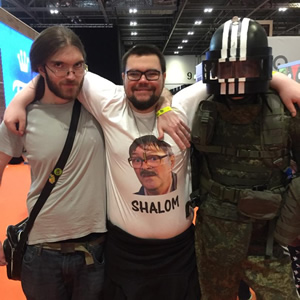 Andy Diggle is the former editor of legendary UK comic 2000AD, and so presumably gave voice to its famously droll alien editor, Tharg - that's the English comic-book equivalent of becoming Prime Minister. He then who went on to write for DC, and penned the Green Arrow run that inspired the aforementioned TV series. Meanwhile Whilce Portacio is a hugely influential artist who co-founded Image Comics after sterling work for Marvel, and they're chiefly here to talk about the classic comic they launched together, Batman Confidential. Very interesting they are too, and Diggle muses on the subject of comedy while discussing a potential Joker project: it'll explore the murky areas "where humour and wrongness overlap." Welcome to our world.
Later we get chatting about comedy with that panel's knowledgeable interviewer, Duncan McAlpine, who works in TV and film production by day, mostly in documentaries but with occasional sojourns into sitcom. He's had pitches for sitcoms about pretty much everything, he reckons, and there are some varied sitcom cosplayers knocking about at this event too, from Red Dwarf's Rimmer to one from Friday Night Dinner. Random.
You meet some interesting characters at the Comic Village. A company called Comic Toolbox have helped launch a nifty book called To the Death, and share their table with the illustrator Chris Geary, who's doing lovely-looking graphic novels about WW1 fighter pilots, called Flying Aces. Then I have a UK-comedy flashback passing a particularly eye-catching stall in that area.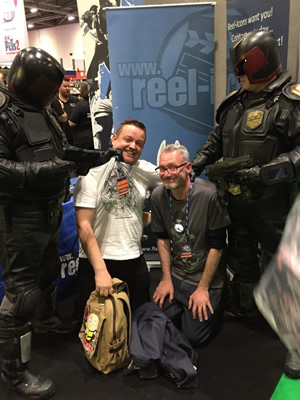 It's easy to think that Monty Python, Blackadder and the like began our love of comedy, but before that comics definitely got a lot of us started. An impressively multi-faceted UK company called Rebellion have lovingly repackaged for posterity strips originally published by weekly comics like Buster and Whizzer and Chips, featuring the sort of characters that would go on to inspire Viz: Milly O'Naire and Penny Less, Sweeny Toddler, and the rest. Absolutely puntastic.
Enter the Dark Side
Rebellion are probably best known for video games, but now own 2000AD, too, which has always employed a winning mix of dystopian darkness and irreverent humour (it's interesting how many of 2000AD's bleak-future gags came true: they knew that Donald Trump would become president way before we and he did.)
Just to emphasise that, heading out of the Comic Village our two-person team are accosted - physically, but funnily - by two of Judge Dredd's Mega City One colleagues. After a small charity donation we're wrestled to the ground like common perps, photographed (with our own phones, admittedly) then shoved away by the impressively grumpy judges, who probably get more 'method' as this hectic day goes on.
It's the costumes that really make a modern comic-con, and you've got to admire the effort and ideas that go into them, from the realistic to the ridiculous. We spot jawas, pokemon, a tardis, a Kevin Smith, The Addams Family, droids, the dude from Texas Chainsaw Massacre, and apparently one woman turned up as the whole ice wall from Game of Thrones.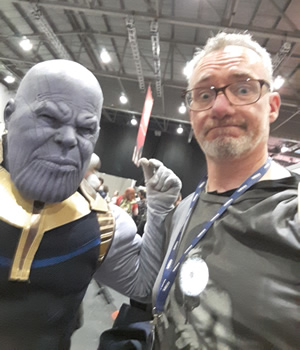 The deadpan dudes are often funniest though. We spot a bloke dressed as Star Wars baddie Darth Maul - voiced in The Phantom Menace by Peter Serafinowicz - posing for a photo with a random punter. "Kiss him" the photo-taker says to his pal. Maul glares. "Kiss him!" he says again. Maul's glare looks worryingly lifelike, so we nip off before he the cheek-peck happens and he whips out the double-ended lightsabre.
Has Rogue Pun come in cosplay too, you may wonder? Sort of. I've come in a low-key Tony Stark outfit (his DJ-Bruce Lee t-shirt from Age of Ultron with a little light hanging underneath), because I'm off to the Soho Theatre to see the excellent Rob Auton after, and turning up dressed as, say, Galactus might be a tad distracting. Still, it does the trick, and I even get a picture taken with a diminutive Thanos, who's wandering around the merch stands.
"Shall I do the 'snap?'" he growls, and does, but with his bare, no-gauntlet hand. Which would have given Infinity War a very different ending, and made Endgame a very different film: three hours of Stark, Cap and co just wandering about happily, watching TV, doing their laundry. And it would STILL have made over a billion. What a wonderful world we live in.