Jayde Adams on Good Omens
Exploring the hyperspaces between comedy, cult films and other cool stuff
Rogue Pun: Jayde Adams has a Good Omens drama, then saves live comedy
A few weeks or months ago - who can tell anymore? - we had a good chat with Jayde Adams about her Amazon Prime special Serious Black Jumper, creative life in lockdown, and - this extra bit - Good Omens, the hugely popular TV adaptation of Terry Pratchett and Neil Gaiman's much-loved book.
That show continues to resonate: it spawned an enjoyable lockdown spin-off, Staged, starring Michael Sheen and David Tennant, still available on iPlayer; and Jayde has been very entertainingly tweeting about Tennant this week. Gaiman even joined in, as Adams brainstormed another spin-off show idea.
So this seemed a good juncture to share her memorable moment with another much-loved thesp, on that set. It's also timely as Jayde is co-hosting some big, important gigs this week, at a proper venue, The Clapham Grand. They're in aid of the excellent #SaveLiveComedy fund, with a splendid bill, including Al Murray as co-host. Tickets for Sunday's live audience and zoom room are available via Eventbrite.
Good times. Now, back to that time Jayde met Miranda Richardson.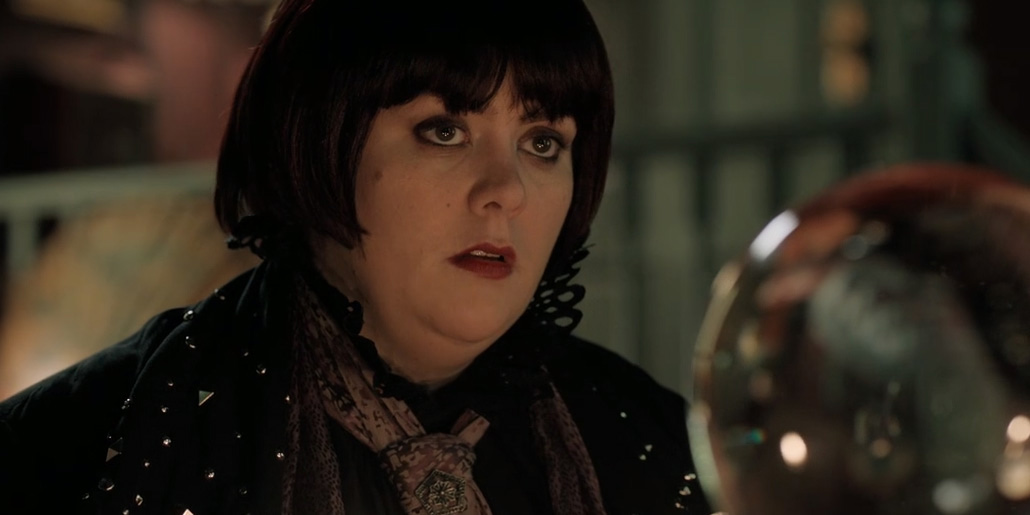 How did you get involved with Good Omens?
I had an audition come through, they were looking for a character who had 'an air of Adele' about them, I went and had the audition and... now what was I wearing? The character was this goth girl that wasn't a real goth, Julia Petley.
She's not a real goth but she'd like to be interested in the mystic side of the world, she's a hairdresser, she's got a few crystals at home and stuff, and an air of Adele about her. So I wore my Buffy The Vampire Slayer t-shirt and had sort of an emo haircut, and went in and did my impression of Adele. That's how I did the audition.
You're in one particularly pivotal scene, as Michael Sheen's angel possesses Miranda Richardson's medium.
You know what's a really funny story about that, I'm sat opposite Miranda Richardson - which is incredible - and I've got two other actors either side, who are fab. And we're all holding hands - we had to hold hands for 20 minutes for that scene, it's very long.
And I came down with a huge cold while we were sitting at the table. Normally if I feel a tickle, the cold is on its way and I've got about three days - it happened in 20 minutes.
So we're sat there in the middle of this 20-minute long scene, and my nose starts running. We've got quite far into it, it's take number three, and then all of a sudden with our eyes closed and our hands touching I hear Miranda Richardson go [does wonderfully classy voice] "I think Jayde needs a tissue." Ha!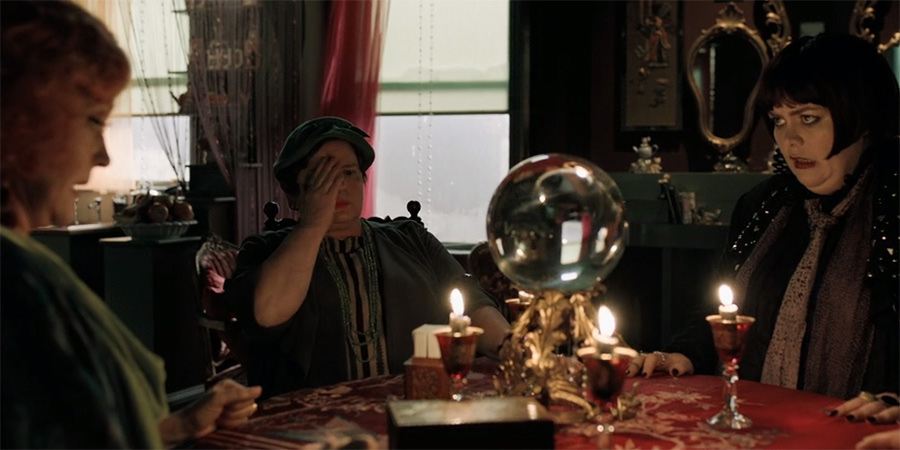 You needed Nursie...
I was so poorly. The paramedic came on and gave me paracetamol, I'm saying "I'm really sorry guys, I'm really sorry I'm being difficult!" I put some tissue up my nose and carried on, had a bath, came back in the next day going "I'm not ill, I'm not ill, I'm not ill..."
But it was just so funny to hear Miranda Richardson's voice from the darkness. I had snot all down my face, I couldn't wipe my own nose because they were holding my hands, I couldn't touch my face. It was mad.
It probably looked like you were really in the scene, properly emoting.
Yeah, the spirits take me, and then they come out of my nose.
So that's done, but you could probably do comic-cons forever - the Neil Gaiman/Terry Pratchett fanbase is really passionate.
Do you know what, I thought that, comic-cons: could I really turn up, was the part big enough? I haven't been asked yet. But I've become chums with Neil Gaiman on Twitter, loads of his fans have come over to my Twitter feed, and they're hardy fans as well. They're loyal, very loyal.