My name is Count Binface, intergalactic space warrior, part-time politician and big Lovejoy fan. I'm delighted to be invited by British Comedy Guide to espouse my manifesto for the 2021 London elections, for which I am standing to be mayor.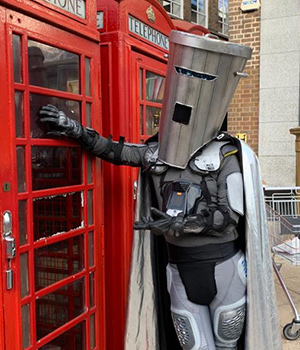 You might be thinking 'What is a comedy website doing by giving a platform to a serious, no-nonsense politician like Count Binface?' and of course you would be right. But aside from all the lunatics who are standing like Piers Corbyn and Laurence Fox, there's an important election at hand and it's my duty to put forward a set of policies that all ten million citizens in the Earth Capital can get behind.
Vote for me and I will rename London Bridge after 'Phoebe Waller', that delightful new national treasure of British Comedy. Why? Because it'll get the tourists flocking in, and it will cost roughly £48million less than Boris's Garden Bridge, which doesn't exist. While I'm at it, I'll repair Hammersmith Bridge too, and rename that one Wayne, after the former international footballer. It's the least I can do.
My other tentpole pledges include free parking between Vine Street and The Strand (but for electric vehicles only), no croissant to be sold for more than £1, and to finish Crossrail. That last one's a bit out there, I know. What can I say? I'm a dreamer. Last but not least, I will restore Ceefax for every household inside the M25. That one's a no-brainer. It simply has to happen.
I'm not taking the election lightly, and have gone so far as to create a party political broadcast featuring my new campaign song, 'Hip To Be Mayor', inspired by the only news source you can really trust, Huey Lewis And The News. Has any other candidate done that? No.
If you're thinking, hang on, this guy looks and sounds like Lord Buckethead, then you're onto something. I was him in 2017 when that name got famous. But then I had an unfortunate battle on the planet Copyright, when an American film producer took my old Twitter account off me after I got famous. So I've had an upgrade but I'm back as Binface, recycled and ready for battle.
I am sure that millions of Londoners will look at their ballot paper on Thursday 6th May and conclude that the list of candidates in 2021 is rubbish. And rubbish is kinda my thing. So I've thrown my bin into the ring. I invite you to join me in taking out the trash, and making this election day 'Bindependence Day'.
May The Sixth Be With You, and Make Your Vote Count.
Galactic best wishes,
Count Binface