25 Years: The best of Comic Relief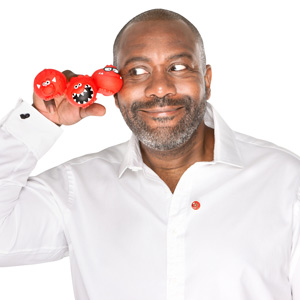 So it's a very happy birthday to Comic Relief as tonight the money-raising behemoth turns 25. Well, sort of. It may have begun in 1985, but the charity's trademark bi-annual Red Nose Day telethon was first seen 25 years ago - on 5th February 1988.
Lenny Henry and Richard Curtis's little pet project has undergone a colossal metamorphosis over the past quarter century, becoming a money-absorbing, raging beast, regurgitating some of our most loved comedians and TV personalities into a charity telethon that has made us laugh more times over the years than Miranda Hart has fallen over.
To celebrate, we've been on 'The YouTube', and with care that dwells in the deepest wells of our hearts, copy and pasted some links to some of the most amusing moments from the charity's history.

Smithy to the Rescue
From the last Comic Relief in 2011, we had one of the more self-referential moments from the show, with James Corden returning to Smithy. The much-loved Gavin & Stacey character jumps in a car with George Michael (naturally) to attend a conference on who should go to Africa for that year's campaign. The brilliance of this wasn't even the number of bizarre names they collated for the conference - including Keira Knightley, Dermot O'Leary, Gordon Brown, JLS, Justin Bieber, Robert Winston, and most brilliantly of all, Clare Balding - but the way they were presented. From a miniature round table, the editing to reveal more and more stars as being 'in the room' was a masterful piece of technical skill and comedy timing. It comes to a head with Paul McCartney suddenly appearing from the ether and announcing he should go to Africa as the last remaining Beatle - cut to Ringo Starr asking, "What about me?"
Doctor Who and the Case of Fatal Death
There has always been perpetual speculation when it comes to who will play the next Doctor Who, but thanks to this golden sketch from 1999, we got an insight into what it truly would be like if Hugh Grant had played the Doctor. Or Jonathan Pryce. Or Rowan Atkinson. Or Richard E Grant. Or even Joanna Lumley, who, oddly enough, has been batting off rumours of the role for years. Okay, it's all a bit of fun in the end, but it certainly gave die-hard Whovians a bit of closure.
Father Ted and Dougal host Comic Relief
As much as we love Tess Daly and Fearne Cotton, if push came to shove, who else would we want to take us through a seven hour marathon of television other than two priests from Craggy Island? In perfect character, Father Ted and Dougal took the helm of the show back in 1997, appearing to their magnum opus, My Lovely Horse. The closest the pair will ever come to being real, and one of the greatest duos of British comedy of the time.
Des Lynam MOTD sketch
The greatness of this sketch is mostly in how utterly bewildering it is. During a Match of the Day typical bit of chatter about the latest games, Des Lynam has an epiphany-esque moment of inspiration and tries to convince the other commentators that they should talk about something else instead of football all the time. Jimmy Hill, in a moment of utter brilliance in timing, convinces Des that maybe they should just stick to what they know.
Ali G interviews Posh and Becks
A trip down Comic Relief memory lane would be obsolete without Sacha Baron Cohen's first love, Ali G, interviewing a perplexed and increasingly uncomfortable Posh and Becks. "Do you want Brooklyn to be a footballer when he grows up, like his dad - or a singer, like Mariah Carey?" We never quite understand why Victoria Beckham is wearing some sort of homage to the live action version of the Flintstones though.
Robert Webb dances for Comic Relief
Well he kept that under the bloody carpet, didn't he? The new reality show for Comic Relief, which cropped up a few years ago, was meant to be a bit of candyfloss fluff entertainment: an advanced mutation of the regular Children In Need feature of popping a bunch of newsreaders in silly outfits and getting them to sing show tunes (Rocky Horror, anyone?). Then in came Robert Webb from a career of not usually having to be nearly so bendy, to turn in the most bizarre and flexible interpretation of the dance routine from early 1980s film Flashdance, complete in black lycra and tresses. Quite worryingly attractive. This didn't come from the Red Nose night itself, but we really couldn't miss it out, could we?
Ricky Gervais fakes Africa
The clips of Ricky Gervais dusting off David Brent this year will no doubt garner excitement in the midst of The Office fans, but for many this clip of Gervais lampooning the entire charitable campaign - and managing to get Bob Geldof on board - is almost as funny as the much loved sitcom that made his name. The 'money shot' comes right at the end when the African with the U2 cassette and the dead brother turns out to be a little more than he seems.
Blackadder: The Cavalier Years
We'll accept just about any excuse for more Blackadder in the world. This exceptionally high quality short comes from the days when Comic Relief specials were more mini-episodes than begging sketches, running to a full 15 minutes and giving a frustrating, tantalising taste of a series that could have been. Chronologically set between Blackadder II and Blackadder The Third, Stephen Fry stars as King Charles I, having freshly lost the English Civil War.
Alan Partridge's Mid Morning Matters
One thing that always gives Comic Relief that oomph is the excuse to see our favourite comedy performers combine forces with newer faces on the scene, also dripping in brilliance. On this occasion, Steve Coogan's new friend is Tim Key as Sidekick Simon. The first TV broadcast of the character in thi setting, Partridge's Mid Morning Matters had previosly been a web series sponsored by a well known Australian-themed alcoholic beverage brand.
The bi-annual Red Nose Day telethon runs from 7pm until approximately 2am tonight on BBC One.
See our guide to the evening's entertainment
Visit RedNoseDay.com for full details about fund-raising and donating.