Writers Galton and Simpson to be honoured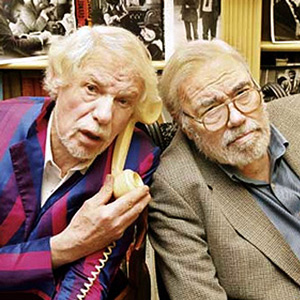 Ray Galton and Alan Simpson are to be honoured at the start of June by the British Comedy Society.
The most celebrated writing partnership in British comedy history, Galton and Simpson's credits include genre-defining sitcom Hancock's Half Hour and Steptoe And Son.
The British Comedy Society, founded in the early 1990s, raises money to honour comedy personalities with blue plaques located on notable buildings, with all funds after costs being donated to charity.
On Saturday 1st June 2013, the Society will be joined by special guests including Paul Merton, Beryl Vertue and Barry Cryer - plus both Ray Galton and Alan Simpson themselves - to unveil a plaque at Milford Hospital in Surrey.
It was at Milford Hospital - then Milford Sanatorium - in the late 1940s that Galton and Simpson first met and began writing comedy, whilst recovering from tuberculosis. Galton later co-wrote the 1997 sitcom Get Well Soon based on his experience at the hospital.
The day's events are scheduled to run from 11:45am to 3:00pm. After the initial unveiling of the plaque, an exclusive reception and buffet lunch will be held at the nearby Refectory. Tickets for the day's events cost £25.
Ray and Alan's chosen charity, to which all proceeds will go, is Age UK
For booking information, visit the British Comedy Society website