BBC Two orders transgender sitcom Boy Meets Girl
Thursday 21st August 2014 @ 12:55pm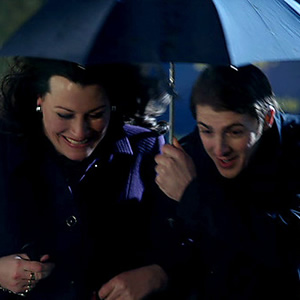 BBC Two has announced Boy Meets Girl, Britain's first transgender sitcom series.

The comedy, created by Elliott Kerrigan and co-written by Simon Carlyle, has been commissioned to a full series following a screening of a pilot episode at the BBC Salford Sitcom Showcase in March. The script was discovered through the Trans Comedy Award, a BBC talent search to promote the positive portrayal of transgender characters.

Filmed in and around Manchester, the six-part series follows the romantic story of 26-year-old Leo and 40-something trans woman Judy.

The BBC explains: "Leo's had a bad day. He's been fired (again), is being given a hard time by his mum and, to cap it all, his blind date fails to show up. But then he bumps into Judy and finds himself deeply attracted to this surprising and beguiling woman.

"They bond over drinks and, unfazed by the fact that there's a bit of an age gap between them, arrange to meet the following evening. Leo's mother is unhappy that he's having dinner with an older woman. But Leo doesn't care what she thinks; he knows that he's just met someone very special."

Rebecca Root, who plays Judy, wrote in a blog post about filming the series: "Tired of rejection by previous lovers, Judy decides to do the 'Big Reveal' on the first date with Leo. He quietly processes the information and then just gets on with the meal. 'Would you like a starter?' he asks. No questions about her body. No inappropriate comments about the toilet. Just so. This episode makes no more bones about Judy's gender than had she confessed to liking Fleetwood Mac (which she did in an early draft). I was over the moon to get the part."

Sophie Clarke-Jervoise from production company Tiger Aspect, says: "We're very excited to be making Boy Meets Girl for BBC Two. It's always great to work with brand new writers and Elliott has a delightfully quirky comedy voice which manages to combine big laugh-out-loud moments, with warmth and truthfulness."

Full casting details for the series has not yet been announced, but it is known that the pilot episode starred Rebecca Root as Judy with Harry Hepple playing Leo.

It should be noted that in 2009 ITV broadcast a comedy drama called Boy Meets Girl in which Martin Freeman played a man struck by lightning who wakes up to find himself trapped in a woman's body. The shows are unconnected despite sharing the same title.
Latest News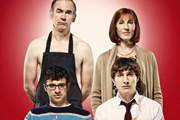 Channel 4 has ordered a fourth series of Friday Night Dinner, its award-winning sitcom starring Simon Bird, Tom Rosenthal, Paul Ritter, Tamsin Greig and Mark Heap.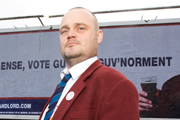 Channel Dave is to broadcast Dave's Election Night Special, a one-off documentary following Al Murray campaigning in the General Election as The Pub Landlord.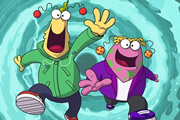 CBBC has ordered a 26-part animated sitcom series focused around former Big Breakfast characters Zig and Zag.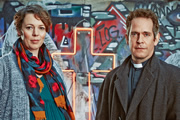 The shortlists for the 2015 BAFTA Television Awards have been announced. Detectorists, Harry & Paul, Moone Boy and The Wrong Mans are amongst the comedy nominees.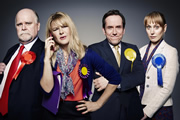 Channel 4 has announced Ballot Monkeys, a political sitcom from the team behind Drop The Dead Donkey which will be filmed close to transmission for topicality.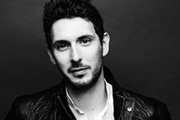 E4 has announced that The Inbetweeners star Blake Harrison will take the lead role in Tripped, a comedy drama series set in parallel universes.