About The British Comedy Guide
Welcome to The British Comedy Guide (aka BCG / Comedy.co.uk), a vast reference website devoted to British comedy, both past and present. Created and run by fans for fans, this site contains hundreds of thousands of pages packed full of information, opinion and detail, plus plenty to entertain: to read, hear and watch.
We aim to be a definitive guide to every British film, television and radio comedy to have been produced, and provide comprehensive coverage of every live comedy event across the country. It'll take a while to get there, but we like to dream big!
Here are just a small selection of the things you can find on this website:
| | |
| --- | --- |
| | Detailed information about many British TV, radio and film comedies (new and old). We aim for 100% coverage of all current TV & radio, and are working to cover archive titles. |
| | Our features section contains plenty to read and watch, including the latest videos, competitions, feature articles and interviews with actors, writers & comedians. |
| | Check out our news area to read about the latest significant developments in the world of British comedy. We are first to many stories and carry a number of exclusives. |
| | The 'Live' section of our site features reviews, news, previews and interviews from the UK's vibrant comedy club circuit and theatres. |
| | Our forums are full of lively discussion about British comedy shows, and a useful sharing resource for those that have got something to ask or say. |
| | We catalogue a huge range of Blu-rays, DVDs, books and other commercially available items related to British comedies and comedians. Search the database to find items of interest. |
| | An area of our website for those interested in making comedy, whether it be performing, writing, producing or directing. We've tips, insight, opportunities and more. |
| | The BCG is now known as one of the UK's most prolific independent podcast publishers. We distribute a number of funny shows for free, and are often in the iTunes charts. |
| | We also operate outside of Comedy.co.uk. Get our popular newsletters in your inbox, receive daily news and DVD updates via Twitter, and 'Like' us on Facebook |
We'd like to thank you for visiting The British Comedy Guide. We hope you find our site useful and interesting, and will come back as we continue to add new features.
If you have any comments, questions, corrections or feedback do please get in touch
Background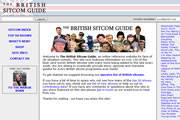 The British Comedy Guide started life in 2003 as a small website called The British Sitcom Guide, consisting of a few brief pages about key sitcoms such as Fawlty Towers and Blackadder. The site has grown in the decade since, becoming the most-visited website in the world about British comedy.
The BCG is owned and run by founder Mark and co-editor Aaron, who heads up all archive comedy coverage. However, they do not work alone, valuing the assistance of a group of regular volunteer contributors, lead by Ian, the main curator of our TV & radio schedule.
Regular columnists include Si Hawkins, Anna Lowman and Jay Richardson. If you'd like to get involved, do please find out more about how to contribute
RSS Feeds
This is a geeky section for those that wish to use RSS to follow what we're up to...
| | |
| --- | --- |
| | A feed from the news section of our website. Get the latest comedy-related news. |
| | The latest features on our website - interviews, competitions, articles and more. |
RSS feeds for our Podcasts, Blogs and Columns can be found via the appropriate sections of this site. If you're looking to follow something in particular, we might be able to create a custom feed for you.
Link To Us - British Comedy Guide Logos
We are sometimes asked for a copy of our logo by people kindly looking to link to our website or write about us in some way. Here are some options...
Extra large version of our main logo
If you need a particular graphic, or help linking to us, please get in touch