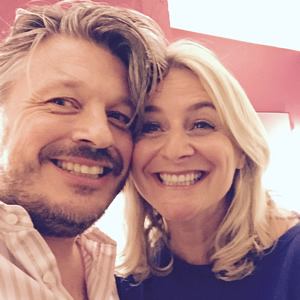 Richard Herring's Leicester Square Theatre Podcast

Richard Herring chats with some of the biggest names in comedy. It's ad-libbed and unedited and largely unplanned - the conversations can go off on all kinds of comedic tangents, or be serious. Recorded in front of a paying audience.

RHLSTP #66: Which came first, Yazoo or Yazoo? Emma Kennedy. Richard is reeling from a missed opportunity to assassinate a government minister and a mystery cloaca based attack, but is delighted to be chatting to a woman he's been messing about with (not like that) since 1987, it's Britain's premier Subo impressionist and poo anecdotist, TV's Emma Kennedy. The pair revisit finding a Tardis in the lost basement of a Masonic Lodge, wonder when the people of Wales will finally all have shoes and discuss what fluids and solids there must be in every jacuzzi in the land (especially if Richard Herring has been in them). Find out how Emma almost killed Richard before he could go on to commit his atrocities, what kind of hands a 6 foot penis man would have and whether the pair will ever be married as they have always secretly dreamed.

Buy tickets to see the show live or if you're more into AIOTM then donate a pound or more a month at gofasterstripe.com and hopefully we'll have enough to start making them in 2016.
To download this podcast to your computer, click on the link above.
Date: 24th June Length: 70 mins Size: 97.1mb Page
You can subscribe to this podcast series via iTunes software.
This is the geeky option. You can subscribe via the RSS feed:
http://feeds.feedburner.com/RichardHerringLSTPodcast
Previous Episodes
Date: 17th June Length: 55 mins Size: 89.3mb

RHLSTP #65: Lou Sanders - The Pink Bike Helmet of Doom. Richard chats to his audience, with faces old and new, including a mum and daughter that lead him to some dark thoughts a...... Listen
Date: 10th June Length: 84 mins Size: 115.8mb

RHLSTP #64: Bob Mortimer - Do you believe in Calgon? Richard is back and exhausted from fatherhood and trying to remember how these work and he's smarting from Alan Sugar...... Listen
Date: 5th May Length: 8 mins Size: 14.7mb

RHLSTP: The Age of Auto-Fellatio. The seventh series of this Sony Award winning podcast is almost upon us and Rich is here with a very special guest to let you know all about what's co...... Listen
Date: 15th April Length: 86 mins Size: 118mb

RHLSTPBATSSII with Sofie Hagen - An Abundance of Shells. A surprise bonus RHLSTP ahead of the return of the series in June, recorded at the Spike Sligo Festival in West Ireland to a ti...... Listen
Date: 11th February Length: 80 mins Size: 108.8mb

RHLSTP # 63: Stewart Lee - This Morning With Richard and Nick. Richard is joined by his erstwhile partner Stewart Lee to chat about This Morning With Richard Not Judy<...... Listen
Date: 4th February Length: 59 mins Size: 80.5mb

RHLSTP #62: Paul Putner and Trevor Lock - TMWRNJ RHLSTP. In this and the next podcast Richard is catching up with some of the stars of the failed 1990s comedy show, Th...... Listen
Date: 28th January Length: 83 mins Size: 114.9mb

RHLSTP #61: Ben Goldacre - I Think You'll Find It's More Complicated Than That. Richard has bought (and definitely not shoplifted) a present for this week's guest, the author wh...... Listen
Date: 14th January Length: 61 mins Size: 84.4mb

RHLSTP #60: Sue Perkins - Superkings. A new website to rival Dirty Britcom Confessions has emerged and Richard is fascinated to find out his fans' favourite food. His guest is a...... Listen
Date: 7th January Length: 85 mins Size: 116.9mb

RHLSTP #59: Victoria Coren Mitchell - What's It Like Being the Unattractive One from Lee and Herring? Richard is gifted a front row audience member who is not only wearing red g...... Listen
Date: 3rd January Length: 69 mins Size: 94.8mb

RHLSTP #58: Milton Jones - Kids Writing Set. Richard is excited about having been shopping for his as-yet-unborn child and having seen a daring theft from Pret a Manger and is f...... Listen
Date: 24th December 2014 Length: 92 mins Size: 126.6mb

RHLSTP #57: Michael Legge - Spreading All Your Nits About. For the first time in RHLSTP history, a guest has been unable to make the recording at the last minute. Al Murray[/...... Listen
Date: 17th December 2014 Length: 66 mins Size: 91.4mb

RHLSTP #56: Richard Osman - Desert Island Dicks. Richard has been considering his own mortality after a visit to Highgate Cemetery, realising that one day he himself might die. ...... Listen
Date: 10th December 2014 Length: 74 mins Size: 102mb

RHLSTP #55: Andy Zaltzman - Pogo Stick Assassin. Rich has more ideas for terrorist atrocities and wonders if vitamin supplements might be the key to bringing down an aeroplane. ...... Listen
Date: 3rd December 2014 Length: 73 mins Size: 100mb

RHLSTP #54: Josh Widdicombe - Celebrity Juice. Rich is excited to reveal his new 'grown-up' question notebook, but will having a baby make him stop finding some jokes funny? His...... Listen
Date: 26th November 2014 Length: 65 mins Size: 90.0mb

RHLSTP #53: Rebecca Front. Richard is very excited about his Nostradamus-like abilities to predict the future and makes another audacious claim about future-tech. Only time will...... Listen
Date: 19th November 2014 Length: 77 mins Size: 105.4mb

RHLSTP #52: Sarah Millican - Why Won't You Tell Us Your Exact Address? Rich has some surprising and life-changing news to share, but that doesn't mean that gloves (and pants if ...... Listen
Date: 12th November 2014 Length: 85 mins Size: 116.8mb

RHLSTP #51: Sara Pascoe - Kamikaze Sperm. Even though eight days have passed since the Half-Marathon, Richard still aches like it was all just yesterday. But he will soon forget...... Listen
Date: 6th November 2014 Length: 68 mins Size: 93.9mb

RHLSTP #50: Steve Coogan - Celebrity Ghost Train. Rich is still alive and kicking (and dancing) only a day after completing a Half Marathon in record breaking time (though to be fair h...... Listen
Date: 29th October 2014 Length: 65 mins Size: 90mb

RHLSTP #49: James Acaster - Two Men in a Field with Walkie Talkies and it's All Clear. Psychic Richard manages to divine the life of someone in his front row merely by looking a...... Listen
Date: 23rd October 2014 Length: 70 mins Size: 95.3mb

RHLSTP #48: Brendon Burns - Not Even The Go To Guy With This Face. Richard forgot to lube his nipples and now he's in all kinds of pain, but he's mainly glad that his nipples get to e...... Listen
Date: 15th October 2014 Length: 82 mins Size: 114.2mb

RHLSTP #47: Mark Gatiss - T R Assmagik. Richard is still reeling from the lurgy he had in last week's show and his guest is also not very well, it's Mark Gatiss from off ...... Listen
Date: 9th October 2014 Length: 67 mins Size: 92.8mb

RHLSTP #46: Katherine Ryan - Pissing in a Money Tin. A new series of RHLSTP and Richard has a whole raft of new emergency questions, to the consternation of his audience who jus...... Listen
Date: 27th May 2014 Length: 63 mins Size: 72.5mb

RHLSTP (EATMCF) Year 2: Mike Wozniak - Hitler meets Stalin. After a six hour drive in a car full of his own gas Richard is more or less ready for a bonus RHLSTP from the Machynl...... Listen
Date: 16th May 2014 Length: 87 mins Size: 119.3mb

RHLSTP #45: Nick Helm - Przepraszam. Richard harangues the willing fools on the first row as usual, though it's a man on the second row who will inadvertently make the most impa...... Listen
Date: 9th May 2014 Length: 73 mins Size: 100.2mb

RHLSTP #44: Jon Ronson - Gaybomb. An almost imperceptibly slimmer than the beginning of the series Richard Herring takes the stage to find a slightly sinister pair of men...... Listen
Date: 2nd May 2014 Length: 101 mins Size: 138.20mb

RHLSTP #43: Susan Calman - Helen Mirren Mask. Richard is still a bit giddy and over-excited from meeting Harry Shearer and, after being on his best behaviour for 7...... Listen
Date: 25th April 2014 Length: 68 mins Size: 94.1mb

RHLSTP #42: Harry Shearer - Creative Differences. Richard has some news of an amazing time travelling finger and is clearly super excited to be meeting one of his all-time comed...... Listen
Date: 18th April 2014 Length: 87 mins Size: 119.28mb

RHLSTP #41: Josie Long - Fruit Pastille Lolly. After being unnecessarily rude to his audience again, Richard introduces this week's guest, comedian, cartoonist and film maker, [...... Listen
Date: 12th April 2014 Length: 75 mins Size: 102.75mb

RHLSTP #40: Danny Baker - I Don't Need A Receipt, Chaz. Richard is still recovering from his important educational work on International Women's Day, but luckily he isn't going ...... Listen
Date: 4th April 2014 Length: 76 mins Size: 103.73mb

RHLSTP #39: Greg Davies - Ian Gunpowder. Richard chats with his audience and manages to secure himself a TV writing job, as well as marvel at his once IT heavy, bearded male aud...... Listen
Date: 28th March 2014 Length: 67 mins Size: 91.74mb

RHLSTP #38: Alexei Sayle - Mouse Killing Alarm Clock. Richard has a pus-filled finger, which is disgusting even in audio, but that doesn't stop the people at Dirtybritcom Confessions p...... Listen
Date: 21st March 2014 Length: 77 mins Size: 105.88mb

RHLSTP #37: Robert Llewellyn - Charlie Chaplin's Lasts. Richard meets his audience, who are predictably much better than last week's to discover a disconcerting leap in the attr...... Listen
Date: 14th March 2014 Length: 78 mins Size: 107.59mb

RHLSTP #36: Helen and Olly from Answer Me This! - Okapi Sandwich. Richard is bristling from more anarchic behaviour in the swimming pool and pitching ideas for Dragon's Den. His...... Listen
Date: 7th March 2014 Length: 58 mins Size: 79.34mb

RHLSTP #35: Jenny Eclair - You Go! Rich meets his audience, some familiar, some new. His guest has had an interesting afternoon at the gynaecologists and the cinema, but which was more...... Listen
Date: 27th February 2014 Length: 74 mins Size: 100.85mb

RHLSTP #34: Adam Buxton - You Don't Bring Me Flowers Anymore. Rich is back for an unprecedented 5th series of this stupid podcast, worried that he might have the same effect on this we...... Listen
Date: 26th November 2013 Length: 70 mins Size: 97.70mb

RHLSTP #33: Stephen Merchant - Suckling Milk From A Cow's Udder. Richard gives his surprise mystery (to the audience at least) guest possibly the worst introduction known to man...... Listen
Date: 20th November 2013 Length: 65 mins Size: 89.97mb

RHLSTP #32: Simon Pegg - In A Round Hole. Richard has just returned from Vienna, burdened with ice-cream disappointments and further worries about his wife's insensitive choice ...... Listen
Date: 13th November 2013 Length: 93 mins Size: 128.31mb

RHLSTP #31: Ross Noble - Trojan Badger. The company director with the sexiest voice in the world is in the front row and Richard is needlessly rude to his less sexy fans. His gu...... Listen
Date: 6th November 2013 Length: 72 mins Size: 98.56mb

RHLSTP #30: Dara O Briain - Penis Sausage. Richard is stuffed to the gills with giant chocolate buttons and recounts the time he got lost in Buckingham Palace, and still is on t...... Listen
Date: 30th October 2013 Length: 96 mins Size: 132mb

RHLSTP #29: Miles Jupp - What IS the Story in Balamory? Richard tells a story of a terrifying prediction made by an Armenian fortune teller and is needlessly insulting to a dead...... Listen
Date: 23rd October 2013 Length: 71 mins Size: 97.65mb

RHLSTP #28: Miranda Hart - Randy Dyke. After the infestation of flies that plagued the first two podcasts of the series, Richard has been gifted a tennis racquet shaped fly exte...... Listen
Date: 16th October 2013 Length: 90 mins Size: 125.57mb

RHLSTP #27: Rufus Hound - Aggy! Aggy! Aggy! - Richard is once again plagued by a swarm of flies that he fears only he can see. His guest is ex-moustachioed comedian and actor, [...... Listen
Date: 8th October 2013 Length: 61 mins Size: 84.33mb

RHLSTP #26: Shappi Khorsandi - Talcum Powder Tit. RHLSTP (rhlstp) is back and Richard has stories from Armenia and the Amalfi Coast and is threatening to reveal the plot to the ...... Listen
Date: 8th July 2013 Length: 84 mins Size: 116.70mb

RHLSTP #25: Sean Hughes - Mango Mist. The guest for the final RHLSTP of the series has had a drink with Morrissey, seen a member of Madness drying his bum hair and has failed to discus...... Listen
Date: 4th July 2013 Length: 62 mins Size: 85.59mb

RHLSTP #24 - Isy Suttie - The Moon Told Me To Kill. It's the clash of the vaguely gold coloured Sony Award winners, but who will come off as comedy king (or queen). The shamefully unco...... Listen
Date: 29th June 2013 Length: 78 mins Size: 121.45mb

RHLSTP 23: Mark Thomas - The Disillusioning Illusionist - It's time for a bit of politics, but that's no reason not to discuss huge, ageing wrinkly ballbags, because tonight's guest is...... Listen
Date: 26th June 2013 Length: 77 mins Size: 106.06mb

RHLSTP #22: Edgar Wright - Spaced By The Bell. At last it's the podcast that addresses the burning issue of modern Britain - which is the best Somerset based show cave complex? ...... Listen
Date: 23rd June 2013 Length: 102 mins Size: 140.33mb

RHLSTP #21 - Russell Brand - Richard Carpenter Punishment. In a theatre that one suspects is stuffed to the rafters with journalists hoping to steal a scoop, Rich is left wonder...... Listen
Date: 14th June 2013 Length: 72 mins Size: 99.11mb

RHLSTP #20 - John Lloyd - It's Not Personal. Richard continues with his mission to get to be a guest on QI with top TV producer John Lloyd, though Lloyd seems inte...... Listen
Date: 13th June 2013 Length: 60 mins Size: 82.17mb

RHLSTP #19 - Mary Beard - Fattening Dormice. After last week's headline-grabbing show, Richard feels under pressure to coax revelations from his guest, classicist Mary Beard, bu...... Listen
Date: 6th June 2013 Length: 93 mins Size: 129mb

RHLSTP #18 - Stephen Fry. Hit It Bitch! - In a frankly extraordinary, must-listen, funny, poetic and heart-breaking podcast Richard interviews quintessential Englishman (take th...... Listen
Date: 4th June 2013 Length: 29 mins Size: 40.20mb

RHLSTP Extra - Waiting for Stephen! The full Stephen Fry podcast will be up as soon as possible, both as free audio or paid video ([linksubtle=http://www.gofasterstripe.com/podc...... Listen
Date: 29th May 2013 Length: 100 mins Size: 69.49mb

RHLSTP# 17: Chris Addison. He's snogged someone who used to be a dead child and worked with Gail Porter, but did he punch a cupboard? Richard, fresh from his triumphant t...... Listen
Date: 24th May 2013 Length: 29 mins Size: 26.73mb

RHLSTP Extra - the Sony Awards. Unbelievably this stupid cock / hamhand / bigfoot-obsessed podcast got nominated for a Sony Comedy Award up against proper BBC comedy shows. But would i...... Listen
Date: 7th May 2013 Length: 58 mins Size: 53.53mb

RHLSTP (BATMCF) Special! - it's like the Leicester Square Theatre Podcast but it's at the Machynlleth Comedy Festival in Wales and is at the packed Y Tabernacle. It's the first ...... Listen
Date: 30th April 2013 Length: 33 mins Size: 30.13mb

The podcast has been nominated for a prestigious Sony Award for Comedy which is totally amazing. As a little extra to whet your appetite for the upcoming new series here is the clips w...... Listen
Date: 4th December 2012 Length: 108 mins Size: 74.81mb

RHLSTP #16: Russell Howard - A Foreskin full of Haribo. It's the podcast so funny that it can make you go into labour. Even if you're not pregnant. Maybe one day it will eject a...... Listen
Date: 27th November 2012 Length: 25 mins Size: 17.42mb

RHLSTP Extra: Secret stand-up from the Adam Buxton podcast. Each week at the Leicester Square Podcasts, Richard performs an exclusive stand-up set that is not (usually) uploaded to the...... Listen
Date: 20th November 2012 Length: 113 mins Size: 78.18mb

RHLSTP #15: Adam and Eve - Adam Buxton. It's the longest RHLSTP yet with Rich upstaged by his new butler, Siri and worrying about all the libel he has committed to the In...... Listen
Date: 6th November 2012 Length: 93 mins Size: 64.53mb

RHLSTP #14: Dave Gorman - Gagglewhack. The a Shrek joke may have run its course but that won't stop Richard running it into the ground. After all he is in Slytherin even if his hands w...... Listen
Date: 23rd October 2012 Length: 105 mins Size: 71.91mb

RHLSTP #13: David Mitchell - The Shreks of Westminster Bridge. Slightly worse for wear after having lunch with Alice Cooper at the Q Awards, Richard is delighted to welco...... Listen
Date: 16th October 2012 Length: 80 mins Size: 56.66mb

RHLSTP #12: Peter Serafinowic(h)z - Jeddy. Rich and his wife have made the ultimate commitment: they've been through their DVD collections and are getting rid of any duplicates. Some l...... Listen
Date: 9th October 2012 Length: 90 mins Size: 62.85mb

RHLSTP #11: Death is Nice - Steve Pemberton and Reece Shearsmith. With the world in shock about the accusations about an ex-BBC employee with long hair and an odd home li...... Listen
Date: 2nd October 2012 Length: 58 mins Size: 40.32mb

RHLSTP #10: Rob Delaney - Do you remember things? RHLSTP is back with a man so well-balanced and pleasant that it's hard to believe that he's a comedian. Twitter sensation and t...... Listen
Date: 23rd September 2012 Length: 4 mins Size: 4.43mb

Series 2 Promo: Richard takes a break from playing snooker to tell you about the guests already confirmed for the second season of his Leicester Square Theatre Podcasts. If you want to...... Listen
Date: 26th June 2012 Length: 99 mins Size: 45.46mb

It's the last in the series, but what a way to end with the creators of Ted & Ralph, Father Ted, Malcolm Tucker and Alan Partridge on stage together (but who created which?). Th...... Listen
Date: 20th June 2012 Length: 85 mins Size: 39.60mb

Lee and Herring are back together, but they're old and chilled and less likely to talk about moons and sticks and all the other catchphrases that they used to do that they are now too ...... Listen
Date: 15th June 2012 Length: 67 mins Size: 31.40mb

Two tired men from the 1990s talking about sexy Jews, travelling with your cleaner, how David pronounces his own name wrong and the consequences of using people's real names in comedy ...... Listen
Date: 12th June 2012 Length: 69 mins Size: 31.77mb

The sexual morals of Edwardian penguins are at the fore this week, as Richard interviews the star of Man Stroke Woman, but not Fatso in Casualty. We will hear the Star...... Listen
Date: 29th May 2012 Length: 100 mins Size: 45.64mb

This weekend Rich has been working with 88 year-old Nicholas Parsons and Charlie has been working with 81 year old William Shatner, but now they've ditched the octogenari...... Listen
Date: 22nd May 2012 Length: 90 mins Size: 41.95mb

It's podcast number 4 and Rich still can't pronounce his own acronym, but he's got his old 90s rival, Charlie Higson from The Fast Show, which some people might argue was...... Listen
Date: 17th May 2012 Length: 58 mins Size: 26.82mb

RHLSTP #3 Francesca Martinez. Rich is angry about the Fringe programme censoring the entry for Talking C*ck (what can that word be?), but luckily Francesca Martinez is on hand t...... Listen
Date: 15th May 2012 Length: 53 mins Size: 24.72mb

RHLSTP #2 Jonathan Ross (with guest appearance by Francesca Martinez). How did Rich manage this? He's got a proper TV star and interviewer on his show and the pressure is...... Listen
Date: 8th May 2012 Length: 82 mins Size: 37.71mb

The podcast with the most unwieldy acronym yet RHLSTP (rhlstp) starts with a bang with flame-haired multi-talented genius Tim Minchin chatting about self-penetration, bad revi...... Listen
Date: 19th April 2012 Length: 4 mins Size: 4.37mb

Richard Herring - The Podfather (The Guardian), reluctant 'King of Edinburgh' and two time and only Chortle Internet Award winner - brings his Edinburgh Fringe Podcast south for a more...... Listen
Web Links