Walk Like A Panther
Sitcom set in Yorkshire, 22 years after the plug was pulled on British wrestling on TV. A band of brothers squeeze into their leotards for one final rumble
Another comedy also has this name.
Genre

Sitcom

Added to BCG
Self-financed sitcom pilot currently seeking a broadcaster. Walk Like A Panther is a comedy about 80's wrestlers in the north, having one last shot at 'glory'. It stars Stephen Graham, Sean Pertwee, Steve Furst, Ian Mercer, Jill Halfpenny, Stephen Marcus, Adam Fogerty, Hannah Walters, Vicky McClure, Warren Brown, Jessica Hall, Peter Martin & Kasabian lead singer Tom Meighan.
Over two decades ago, on every Saturday, of every week, every great British household would come together as one. At four o' clock in the afternoon, the nation would be unified in their support of great and fearsome warriors. Many were loved, few were loathed - all were heroes. British Wrestling took place in a world where only the strongest survived - and to survive you had to 'Walk Like A Panther'.
Sadly, those days are long gone... until now. Set in Yorkshire, 22 years after the plug was pulled on British wrestling on TV, a band of brothers squeeze into their leotards for one final rumble. Dealing with the highs and lows of everyday life through the boston crab and the half nelson, the wrestlers find themselves, one another and will never say die.
In the traditions of Auf Wiedersehen, Pet, The Full Monty, Brassed Off, Phoenix Nights and World of Sport; Walk Like A Panther blends comedy, heartfelt drama and ill-fitting lycra.
Written & Directed by Dan Cadan. Produced by Dan Cadan & Amy Ricker. Produced by Cheeky Boy Films & Finite Films.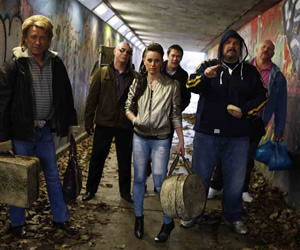 This sitcom was never made, however it was turned into a 2017 film