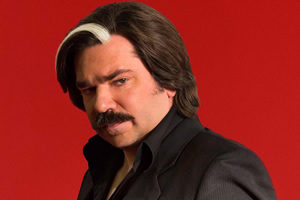 The multi-talented Matt Berry played out the theme tune live at the end of Episode 4 of Series 3 of Toast Of London (9th December) - a world broadcasting first.
Take My Hand, from Berry's album Witchazel, was performed by 'Matt Berry and The Maypoles'. The six-part folk band, signed by Acid Jazz record label, includes Mark Morris, previously singer of the Bluetones, as well as folk artist Cecilia Fage.
Matt Berry, talking before the broadcast, explained: "When the dates for the series were confirmed I realised we would already be on tour, performing the theme song every night so I wondered if it was possible to perform the song live from the continuity room over the show as it goes out... It turns out it is. It's been making me nervous ever since I suggested it. It could be a disaster. Let's do it!"
Here's a video of the band in action at the end of the episode:
See tweet
Published: Wednesday 9th December 2015