What is The Reluctant Landlord about?
The premise of The Reluctant Landlord is basically: Romesh - his dad dies and leaves him a pub and he has got to put all of his plans on standby while he deals with this pub he doesn't want to run. There's his family life upstairs - it's about him juggling his family and running this pub that he hates. I play one of the regulars in the bar, called Lemon, and I'm sort of like his best friend, and I just sit at the bar - all day, every day and that's my job.
Why should viewers tune into the series?
I think it's just a really nice series, it was really funny. I came into it quite late and I didn't have time to read all of the scripts when I signed on for it, so it was nice to find out that it was so good. All of the actors enjoyed being on set together, we all got on really well and I think a lot of that translates on to the screen. And it's just funny - the script's really funny, the episodes are really funny, Romesh is brilliant in it and it's just a really entertaining pub-based sitcom. Maybe it's the second-best pub-based sitcom, after Cheers.
What was it like working with Romesh on his first scripted sitcom?
It was brilliant. I've known him for about 12 years, we both started out together; he used to run a pub with his brothers and he booked me to gig there. So I've known him since way back then. This sitcom is sort of based on, its semiautobiographical I think, and yeah, I love him.
I've always loved him, he's genuinely one of the nicest people in the entire business and he works so hard, and he's always busy. I mean he's so busy that you never get to see him. So basically it was nice to hang out with him for six weeks.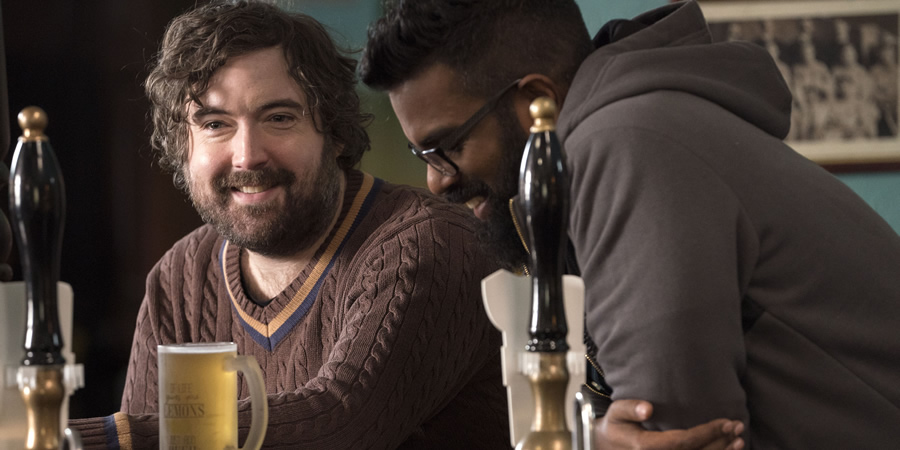 Were there any scenes during the shoot that stand out for a particular reason?
The thing is, we were always laughing on set; we just had such a lovely time together. Romesh is really funny, and obviously there was Yasmine Akram, Marek Larwood, and then Sian Gibson - they're all great.
I've done several sitcoms, and I don't think I've laughed as much on the set as I have with this. Any scene where there are all four of the main cast around the bar with me and Marek and Yasmine and Romesh, any scene when we are all together, that was always really nice to film.
I didn't get to film many scenes with Sian because the sitcom's split in half, with the family stuff and the pub stuff. There's a scene where Romesh set himself on fire that I wasn't in, but I watched and I thought that was hilarious.
Did you relate to your character in this show?
Well I used to be a barman, and my character can't pour a pint. I've seen people like him, I used to work in a pub and we used to have regulars that would sit in the other side of the bar and they'd keep you company all day when the pub was empty, so I know people like him. I've never - well I mean I say that, I've spent many a day in a pub - I've kind of been on both sides of the bar.
If you had a pub today, what would you call it and why?
I would call it the Glass House and I would have it in St Albans. I used to work in a pub called the Glass House and someone stole the G and the L, so it was called the 'ass' house, and they just left it like that for months. So I would recreate that pub and I would work there. The vibe there was slightly dangerous and aggressive, always on the brink of something awful happening - I think as an experience that's one that you would pay good money for.