Hugh Dennis admits he is a fairly competitive person.
What made you decide to do Taskmaster?
I just liked the silliness of it. It's not anything that you ever get asked to do normally. I quite like the challenge of it. And once you get over the idea that you're going to look like an idiot and come to terms with that, it's really enjoyable. I watched previous series and had a couple of members of the public come up to me and say you should do the show and I thought 'what do they mean? What's the underlying message? What's the subtext?' It's just good fun isn't it. It means absolutely nothing, so therefore it's great.
Are you quite good at doing tasks?
No. I sort of get irritated with myself sometimes because I'm very methodical and rational. I saw Richard Osman do it last series and I noticed that every time he did a task he basically looked at the grammar of the task to work out if there was anything that he could get around: did he have to do the thing they were specifically asking? And I'm a little bit like that. It's great because you get a shed and you go to it to get things like a hammer and then smash things to pieces or climb stuff, pour things in to other things. You get to be a big kid. It's amazing and so silly.
Was it tougher than you thought?
Physically it wasn't tremendously tough but if you're not worried about what you're going to do, it's actually incredibly relaxing. They bring you lunch, you have five tasks a day, they set stuff up, you go in to a room and read the task, you do the task and there are more biscuits. It's great!
Are there any tasks that you're mortified by your performance in?
I had to hide and I got caught. I was trying to get in to the loft but I couldn't work out a way of getting in to it without a ladder. I ran out of time. But nothing else really. It's kind of weird. I found myself on a football pitch somewhere in Buckinghamshire hitting a small Babybel cheese with a snooker cue. That was brilliant. Vaulting over a vaulting horse was my favourite task. Not that I vaulted particularly well - I sort of dived over it if I'm honest, on to a crash mat.
re people going to see a different side to you?
I wouldn't think so. I don't know! People who know me very well won't, but I don't know about others. A lot of the stuff I've done has been fairly physical. When Steve Punt and I started as a double act years ago the best description that anyone came up with was 'Steve Punt and his naughty friend'. I was always doing somersaults and things like that so just sitting there on panel shows chatting was a new thing for me.
In the past, I've just hurled myself about and pretended to walk like dinosaurs and that sort of stuff. So, it does feel like I'm rediscovering my childhood in rather an alarming way.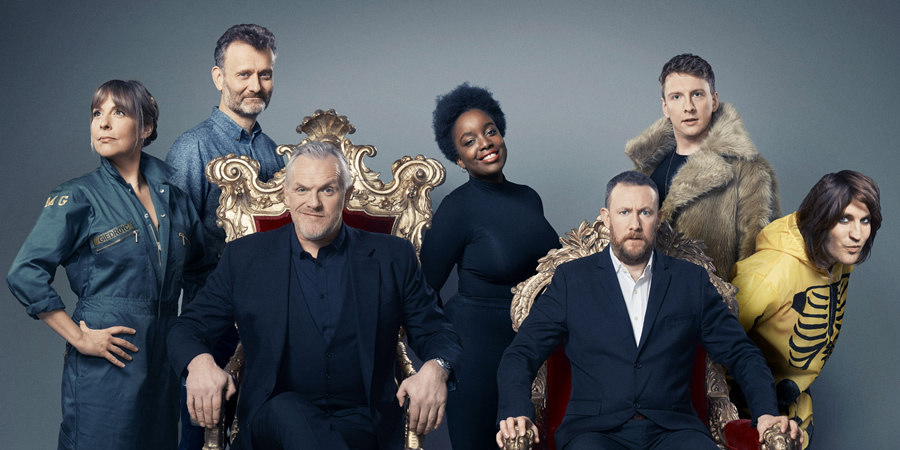 Who's your biggest competition?
It's impossible to tell because you don't do any of the tasks with any of them. The only person I've done stuff with at all is Mel Giedroyc who seems pretty good actually. I've known her for a long time, both Mel and Sue. Mel and I had to get the most flour on to a landing area by throwing it. I thought we should use a fishing line but that didn't work that well. I think we worked well together. She's very funny; she makes me laugh a lot.
Are you very competitive?
I am competitive. The fashionable thing to say is 'but only with myself' but I am with everyone. I don't mind if I lose but I do want to do things well. On the football field my competitiveness consists of me being really cross. Sport I get cross. Most of the time I think I'm just very calm and relaxed. I always have been. Stand-up is not a team game so it's quite competitive whereas actors probably aren't particularly competitive because you have to work with other people all the time.
How does this compare to other panel shows?
This isn't really a panel show. Other panel shows don't lock you in a house and force you to do strange things. I think it's really good because it acts as a completely different area.
It's really interesting seeing how different people do stuff. How their brains work and actually the group tasks are interesting because you realise to what extent you tend to think you're right. Like my own kids do - if I'm trying to fix something on the Sky box then it's very quick for them to come in and say 'no just press that and do that'. Everyone finds it really difficult watching people do stuff that they think they know how to do. That's become the biggest challenge of the joint task is finding the balance of that very British thing of 'no no, of course!' And 'that's completely wrong'. You have to find that balance.
What will it mean to you to win?
I think it might be the proudest moment of my life. It will knock everything else in to a cocktail. I don't know really - until that moment and I do think it's extremely unlikely - how do you win? No one's every really told me. What happens? Greg decides?
Who else would you like to see do the show?
Well it's all comics at the moment isn't it and in a way, I'd like to see different types of people do it, like newsreaders and weathermen. It would be good, wouldn't it? The cast of Casualty - see if they actually are any good at solving issues. Some of the boys on DIY SOS to see if they actually can do stuff for all their talk and are able to fix things. Could they hit a Babybel with a snooker cue?
Video interview task