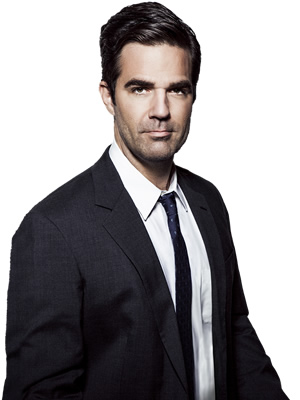 Rob Delaney, the US stand-up who is one of the stars of Twitter and co-creator of Channel 4's Catastrophe, appears as a guest in the second episode of Russell Howard's show. He talks about what it was like to film his set here:
Hi Rob. Did you enjoy your performance on Russell Howard's Stand Up Central?
The crowd was magnificent and it was a really great night.
For those that haven't seen you before, can you describe your act?
I am a big blustery American scum bag, and I enjoy filth and rubbish and upsetting people. That's what I endeavoured to do. People were pretty upset and amused in equal measures so I will say that's a success.
What was it like performing alongside Russell Howard?
I have never worked with him before. I have seen him on panel shows but this was the first time I have seen him live. He pretty much owned slash destroyed the crowd!
What attracted you to taking part in the show?
This show was fun, and it was a positive experience but I would perform at a lake or an opening of an off licence.
How does it differ performing for such an intimate audience compared to your usual venues?
It was wonderful. While I am on tour it may be big venues but I still perform in tiny clubs when I am working on new material. So it is often the most fun working in small venues. The difference is you might possibly work in miniature; you don't have to leap up and down - use the whole stage - employ theatrics. The spirit of the material and how you talk will be the same but it is important that people on the balcony receive the message the same as someone on the first row. So you ramp up your physical ridiculousness. The material doesn't change but your instrument will be calibrated properly.
Does it add to the pressure when you know the show is being recorded for TV?
Yes you have to remember that in addition to respecting the audience in the room, there are going to be more people watching. So that's a larger audience than in the moment, and again that is more of a mechanics thing. Don't look at the ground... which only gets better after years of practice!
Have you always been into comedy?
The happiest that I could be was when I was watching and consuming comedy, be it sketch, stand-up or improv. I loved it as a little kid and after my teenage years I realised people could make a living and you can seriously pursue this as a career.
The adults I am most grateful to in this world are the ones who raised me and made me laugh. I am an extraordinary good person in that I want to help the world and the way I do that is by singing my comic song from the mountain top!
Which comedians have influenced your career?
I would say Richard Prior and George Carlin. Then, of course, The Upright Citizens: Amy Poehler, Matt Walsh, Matt Besser and Ian Roberts.
How do you deal with audience hecklers?
I embarrass them; recruit the audience to shame them because I want to ruin their night. I am fine, so I can handle turbulence but it makes other people uncomfortable so I will erase or attack him. Anything to cause the heckler pain I will do, it's wrong and I am the boss so I win.
What's next for you?
I am writing Series 2 of Catastrophe for Channel 4, and we are going to shoot it this summer.
Russell Howard's Stand Up Central is on Comedy Central on Wednesdays at 10pm.