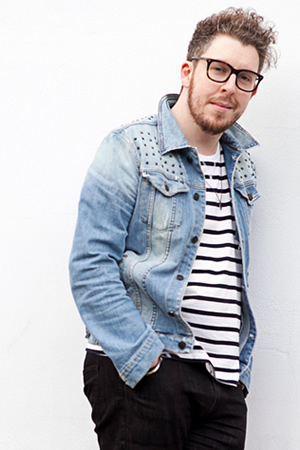 Carl Donnelly has been performing stand-up for 10 years now...
Hi Carl. Did you enjoy your performance on Russell Howard's Stand Up Central?
Yes it was really fun. It felt like doing a normal gig - it wasn't in a big shiny theatre; it was in a cool little venue. It just felt like doing a normal gig that was being recorded so it didn't make it feel too much out of the ordinary.
Does it add to the pressure when you know the show is being recorded for TV?
Totally. I have this weird fear of being photographed and filmed. It isn't chronic but I get really awkward when there are cameras around and I always have done. On stage normally I am really calm and super relaxed but when there are cameras around I have to really give myself a talking to before going on stage just so I am not too nervous.
How does it differ performing for such an intimate audience compared to your usual venues?
It definitely helped that it was a really intimate audience. It was all set out so nicely in a smallish room and I think that really helps get the crowd up for it. The setting put me at ease a lot.
How do you deal with audience hecklers?
I am normally quite good at it. When I started out, I had no material and I just played around with the audience because I didn't have enough jokes to fill the time. So from quite early on I learnt how to deal with them.
I don't get heckles that often to be honest, I think it is actually a lot rarer than it is made out to be. If it is just fun and somebody is just chipping in then normally I have a laugh and just enjoy it. I have had one or two throughout the years where they are just mean and aggressive and they have taken an instant dislike to me. I have had to have a word with them and say "look this is not on, this is a comedy gig, we aren't going to have a fight, calm down!"
Can you tell us a bit about your act?
It is quite simple really. The majority of my set is one story. As much as I have observational stuff, a lot of my longer shows are normally made up of three or four long stories so I thought I would do one story last night - it was about when I had to give a sperm sample to the hospital and how it was a pretty interesting day. I told the story of how I had to deliver it...
It's a true story, none of it is made up but it's one of those stories that, when it happened, it was horrible, but for stand-up it makes a good story! Most people don't have that luxury when something horrible happens to them!
What was it like performing alongside Russell Howard?
I am quite lucky I have worked with Russell quite a few times now over the years. I think we are the same age but he started out in comedy so young. I didn't start out in comedy until I was 26/27. There are a lot of young comics that try and act more mature than they are but watching Russell who was actually quite proud to be silly and young is great and inspiring.
Over the years working with him has been really fun. I did Good News for him about four years ago and that was really fun. He has always been really supportive and it is nothing other than a pleasure to work with him.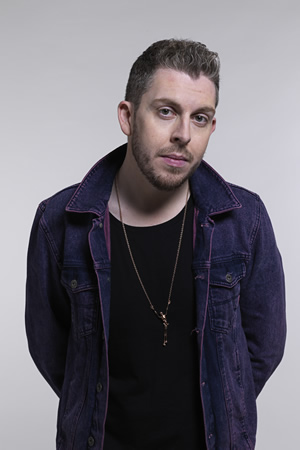 Is that what attracted you to take part in the show?
It is that thing where it is nice to be offered a stand-up show for TV. Often TV stuff for stand-ups is panel shows where it isn't exactly what we want to do. As much as we can have a lot of fun on a panel show, your natural state is going to be on your own with a microphone. So I jumped at this when I got offered it because it was nice to do another bit of stand-up.
How did you first get into comedy?
I fell into it really. It was really strange. I never ever thought I wanted to do it and I wasn't really into stand-up in my teens. I went to university to do film production and dropped out after two months. I was in London and got taken to a comedy night at Banana Cabaret in Balham and watched live stand-up for the first time and just walked out the room thinking "I need to know more about this". So I started watching it nonstop. For a few years I was obsessed with it to the point where I thought, "I need to do this" and so I gave it a go and loved it.
Have any comedians influenced or inspired you in your career?
The first gig I ever saw, there was a comedian called Addy Van Der Borgh and he is still one of my favourite stand-ups. He is so silly and naturally funny. I only ever thought stand-up was shiny people in suits on the TV but to watch live comedy for the first time and see somebody messing around and playing around with the audience blew me away. I couldn't believe somebody was getting paid to basically have a laugh.
Do you have any tips for up and coming stand-ups?
I think the best thing to do is not rush. So many comics when they start out are desperate to get on TV or play the big clubs, The Comedy Store or go to Edinburgh. It takes so long to get good, most of the good comics will tell you it takes ten years to really hit your stride in comedy and that is really true. Every year in comedy you think you have hit your peak as a performer and then you don't. Then next year you think "oh last year I was a bit rubbish but this year I am a bit better". New comics needs to check themselves a bit, not get ahead of themselves and don't think that they should be on Live At The Apollo after two years of comedy.
Will you be watching yourself when this episode airs on Comedy Central?
I don't like watching myself! I will watch it to see the other people but, like I said, I don't like being photographed and I hate watching myself.
A lot of comics film themselves or record themselves when they are doing new material so they can look back at it, but I can't do that. I have to do it all from memory because I feel insane if I am sitting watching or listening to myself! I feel like I have lost the plot and I am a crazy person. But, yes, I will definitely watch the show... but skip over my bit!
Russell Howard's Stand Up Central is on Comedy Central on Wednesdays at 10pm.