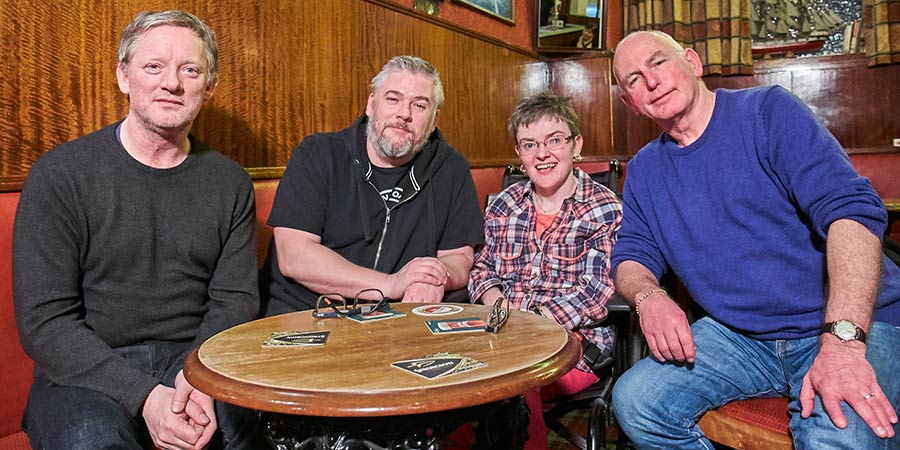 Genre

Documentary

Broadcast

Channel

Episodes

1

Features
Orphans Reunited brings together the key cast of Scottish film Orphans for the first time since making it in the late 1990s.
On its general release 20 years ago, Peter Mullan's film wowed and shocked audiences around the world with its dark humour about four siblings coping with grief in their very different ways.
Written and directed by Mullan, it told the story of the four Flynn siblings - three brothers and a sister - who after the death of their mother are torn apart during a long dark night, on the eve of her funeral, of mishaps and understandings.
Such was the cult impact of the movie that it even spawned its own catchphrase: "She ain't heavy, she's ma mother."
Famous as an actor, with key roles in many iconic Scottish films of the 90s - ranging from Braveheart to Trainspotting - Orphans was Peter Mullan's first feature film as writer/director.
When it was made in 1998, it was stalled from going out to cinemas for general distribution ...until the plaudits rolled in from industry screenings, with audiences wowed at that year's Venice Film Festival. In May 1999 it achieved general release, making its own mark in the pantheon of Scottish movies and cementing Mullan's career as a writer and director.
He filmed it in the Southside of Glasgow, around the streets where he grew up. And for the documentary, Peter takes viewers of a tour of the area, its Orphans' locations and other settings such as those for his award-winning short film Fridge.
He says: "I wanted to create my own world based on the world I saw around me...Then present it to folk and hope that they enjoy your way of looking at the world."
The documentary reunites the 'sibling' cast; Shetland's Douglas Henshall, who played Michael, Stephen McCole, as his brother John, Rosemarie Stevenson as their sister Sheila, and Gary Lewis, who played the eldest brother Thomas - and uttered the immortal line forever associated with the movie as his character offered to carry his mother's coffin alone.
They are seen reminiscing over an exciting time for their careers and the impact the film has had on their lives. Twenty years on, this ambitious film - as the documentary reveals - can also be seen as a time-capsule of the Scottish film-making scene of the nineties, with even minor roles brimming with memorable talent, including Alex Norton (Two Doors Down) as the angriest barman ever witnessed on screen, and Frank Gallagher as a dodgy crook, in a role that paved the way for River City's defining gangster, Lenny.
Tony Nellany, BBC Scotland Channel Manager and Commissioning Executive, said: "Orphans was an international hit but also a cultural landmark in Scotland. It is part of our filmic history and 20 years on, it is a fitting opportunity to celebrate it."
Production company

Laugh track

None
Broadcast details
First broadcast

Saturday 11th May 2019 on BBC Scotland at 9pm

Episode length

1 hour

Last repeat

Wednesday 6th January 2021 at 10:00pm