Adam Hills signs a deal with Channel 4
Adam Hills signs a deal with Channel 4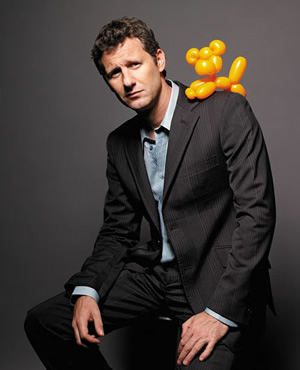 Channel 4 have announced that they've signed an exclusive one year deal with Adam Hills. The Australian stand-up comedian, who now spends most of his time in the UK, will work on various Channel 4 comedy projects.
Hills, who has a prosthetic leg, having been born without a foot, recently hosted a critically acclaimed irreverent series for the channel during the Paralympic Games. The Last Leg With Adam Hills was broadcast live each night of the Games and was widely praised for using humour to break down barriers over disability. The programme became so popular that, when a knitted doll of the presenter was put on eBay by the show, it raised over £12,000 for charity.
As part of his new Channel 4 deal, Adam Hills will return for another run of the show in 2013, and Christmas special this winter. Josh Widdicombe and Alex Brooker, who acted as co-hosts during the first series, will also return for the new run.
Hills comments: "The Paralympics is one of my favourite events in the world. When Channel 4 offered me the chance to cover it with The Last Leg, I jumped at it. It's not often you get the chance to do something you absolutely love, that people seem to connect with. I thought The Last Leg was going to be an once-in-a-lifetime opportunity. I'm over the moon to think that we can do it all again."
Channel 4's Syeda Irtizaali adds: "We knew The Last Leg was something special and we were in no doubt we wanted to keep the show's spirit of open and frank debate alive. We are working on a number of great ideas that will help push the show forward from its Paralympic origins into a broad, intelligent and entertaining series. I'm hugely looking forward to working again with Adam, Alex and Josh."
A list of other comedy projects for Hills to work on has not yet been announced by the channel, but the network has said it will screen Adam Hills Live From The West End, a stand-up special featuring the comedian which will be recorded at The Lyric Theatre in December.
Although still relatively unknown in the UK, Hills has considerable presenting experience as the host of hit music panel show Spicks And Specks in Australia, which has now run for seven series. He also hosts interview show Adam Hills In Gordon Street Tonight, which will be returning to ABC Australia for another series. Meanwhile, last month he recorded a new comedy pilot for Radio 4 called Adam Hills Mess Around, but this has not yet been broadcast.
Here is footage from a few years ago in which Hills talks about his leg:
Share this page