Terry Pratchett's The Watch
Terry Pratchett series The Watch coming to TV
BBC Studios is developing The Watch, a series based on Terry Pratchett's Discworld books
The six-part TV series will focus on the adventures of the Ankh-Morpork City Watch police force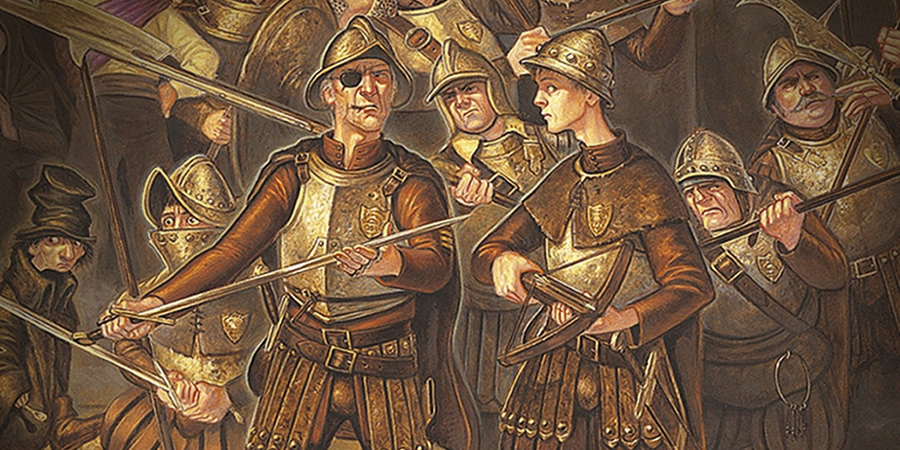 The Watch, a TV series based on Terry Pratchett's Discworld books, is in development.
Deadline reports that BBC Studios is now developing a six-part series based on the author's best-selling comedic fantasy books.
M.I.High and The Musketeers writer Simon Allen is working on scripts, with the industry website reporting that BBC Studios is aiming to make the show a 'returnable franchise'.
Pratchett wrote a total of 41 Discworld books between 1971 and his death in 2015. Set on a fictional world that floats through space on the back of a giant turtle, the comedic novels focused on the adventures of various returning characters who live in the medieval-like world.
The new series will focus on the Ankh-Morpork City Watch, a police force operating in the world's major city. Lead by Sam Vimes, the largely incompetent group of lawmakers are tasked with fighting growing levels of crime in the burgeoning city. Deadline writer Peter White says of the premise: "It would be perfect for a Pratchett-style CSI crime of the week procedural cop drama with supernatural elements."
Narrativia, the production company founded by Pratchett in 2012, which is now run by a team including his daughter Rhianna, have been developing The Watch for several years, but with the BBC now on board the show has edged a step closer to coming to TV. BBC Studios, having been split from the main part of the corporation, now develops shows for various broadcasters, thus it is not currently clear which channel The Watch is aimed at. Deadline say producers are "eyeing the adaptation as a major international co-production."
This is not the first time Pratchett's books have been adapted for television. Sky produced the series Terry Pratchett's Hogfather, Terry Pratchett's The Colour Of Magic and Terry Pratchett's Going Postal between 2006 and 2010.
Additionally, Good Omens, the story Pratchett wrote with Neil Gaiman, is to become a 2019 series on BBC Two and Amazon. Filming is currently underway on Good Omens, with Michael Sheen and David Tennant and leading an all-star cast.
Further details on The Watch are expected to be revealed as work on the project progresses.
---
For updates, click the button below.
Share this page