Benidorm Series 10
ITV to celebrate 10 series of Benidorm
ITV is to broadcast new documentary Benidorm: 10 Years On Holiday
Series 10 of the sitcom starts on ITV in February, with series regulars joined by various guest stars
New series regulars include Hale & Pace, and John Challis joining the core cast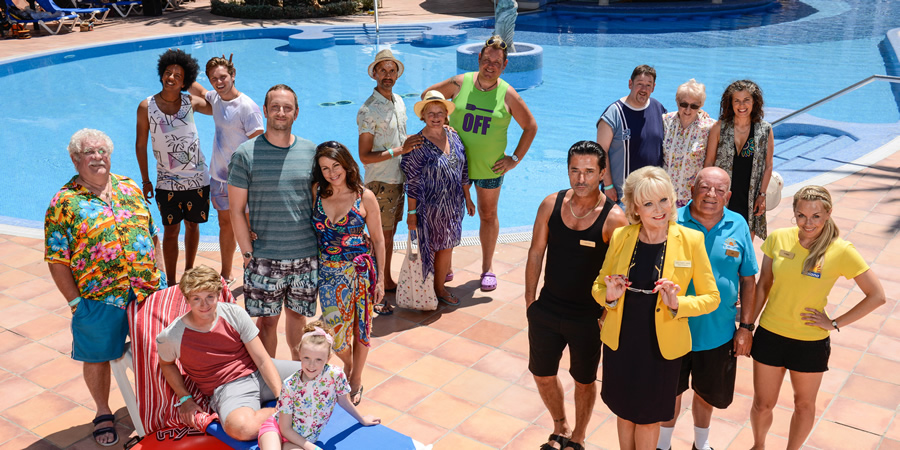 ITV is to broadcast a documentary celebrating the fact its Spanish-set sitcom has been on air for over a decade.
Benidorm: 10 Years On Holiday will be broadcast this February, ahead of Derren Litten's comedy returning for a tenth series.
Taking about the sitcom, ITV says: "First screened in 2007 in a 30-minute format, the show has grown to be hugely popular with ITV viewers and has been BAFTA nominated and won numerous TV awards over the years including two National TV Awards."
Benidorm: 10 Years On Holiday will see Derren Litten guiding viewers around Benidorm to reveal all about how the show was created, whilst visiting the show's many real life locations too.
ITV adds: "Cast (past and present) will talk about their roles on the show alongside show bloopers and exclusive behind the scenes footage of the upcoming 10th series being filmed."
Amongst those speaking on the documentary will be Steve Pemberton, Siobhan Finneran, Sheila Reid, Ollie Stokes and Hannah Hobley, the actors who played the Garvey family who were initially central to most of the sitcom's plotlines.
Derren Litten says: "When I wrote the first script of Benidorm I had no idea it would change my life so dramatically over the next 10 years. I am so grateful to our fans and to ITV for giving Benidorm the best possible home we could hope for. Here's to the next 10 years!"
Benidorm Series 10
The 10th series of Benidorm, which is also due to start in February, will see comedy duo Hale & Pace joining the show as undercover detectives, Dennis and Nigel, who are investigating Tim Healy's character. After missing most of last series due to ill health, Healey returns to the series full time this year as Les/Lesley.
The new series will also see Shane Richie reprising his role as lively entertainer Sammy Valentino in four episodes, and John Challis becoming a series regular with his character Monty Staines.
The Dawson family will all return, with Billy and Sheron celebrating their silver wedding anniversary. Series 10 was filmed last year, and was one of the final appearances by Bobby Knutt, who played Eddie Dawson, before he died in September.
Newcomers to Series 10 include Laila Zaidi who plays Cyd, the new girlfriend of Rob Dawson and Julian Moore-Cook who plays Joey's mate Callum.
Long term show regulars Joyce Temple Savage (Sherrie Hewson), Mateo (Jake Canuso), Liam (Adam Gillen), Kenneth (Tony Maudsley), Sam (Shelley Longworth), Joey (Nathan Bryon) and Jacqueline (Janine Duvitski) all return.
Series 10 also sees Noreen (Elsie Kelly) and Pauline (Selina Griffiths) enjoying another holiday in Benidorm with Pauline back on the wagon and hoping to revive her fledging career as a novelist. ITV teases: "Things soon flare up with the arrival of Noreen's twin sister Doreen (played by Elsie Kelly in a dual role)... and her very familiar new boyfriend!"
Meanwhile guest stars in Series 10 include The Chuckle Brothers, Nigel Havers, Mark Heap, Bobby Ball, Claire Sweeney, Layton Williams, Carol Decker, Tony Hadley and Holly Johnson.
Series 10 of Benidorm is expected to start on ITV in February. ITV says: "The 10th series starts with the wedding of Joyce Temple Savage (Sherrie Hewson) and Monty Staines (John Challis) but do they actually get to say 'I do'?!"
---
For updates, click the button below.
Share this page