Good Omens filming
Filming begins on Good Omens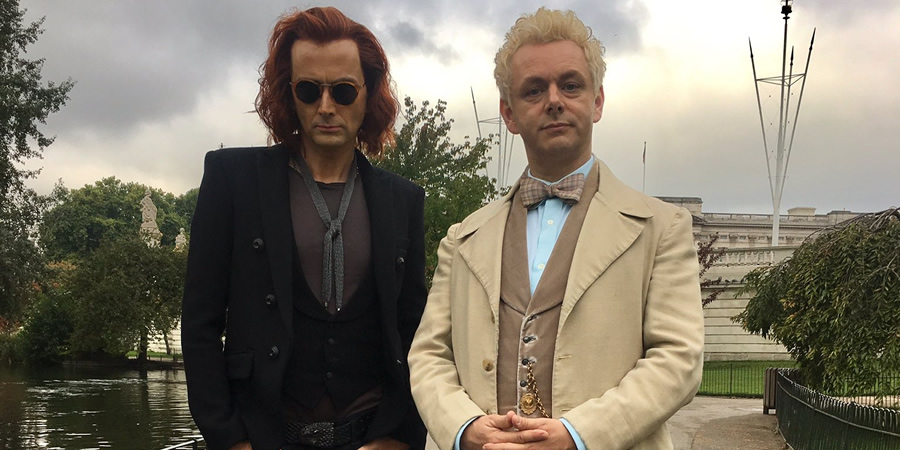 Production is now underway on Good Omens, the new TV series based on the book by Terry Pratchett and Neil Gaiman.
A picture has been released today from the set showing David Tennant as the demon Crowley and Michael Sheen as the angel Aziraphale.
The six-part series will be filmed over the next six months in London, Oxfordshire and locations in South Africa, overseen by Doctor Who and Dirk Gently director and executive producer Douglas Mackinnon.
Talking about the storyline, producers BBC Studios explain: "Aziraphale and Crowley have lived amongst Earth's mortals since The Beginning and have grown rather fond of the lifestyle and of each other. So it's really terrible news for both of them that, if Heaven and Hell have their way, the world will end on Saturday. Next Saturday, in fact. Just before dinner. The armies of Good and Evil are amassing, Atlantis has risen, tempers are flaring. The Four Horsemen Of The Apocalypse are ready to ride. Everything appears to be going according to Divine Plan. Except that someone seems to have misplaced the Antichrist..."
Commenting on the start of production, Neil Gaiman - who is acting as showrunner on the series - says: "People have fallen in love with an angel and a demon in a book by Terry Pratchett and me, and they have been excited and nervous to see how they would appear on screen - and I was probably the most nervous and excited of all. This is a first look.
"Michael Sheen is the best and finest of bookseller angels, David Tennant the coolest and most delightful of demons. Together they are one hell of a double act (or do I mean one made in Heaven?)"
It was recently confirmed that the series would also star Jack Whitehall, Miranda Richardson and Michael McKean. Whitehall will be playing Newton Pulsifer aka Newt - an unfulfilled wages clerk turned witch-hunter - and McKean will take on the role of Sergeant Shadwell, the leader of the witch-finder army who sends him on his mission. Meanwhile Miranda Richardson has signed up to play Madame Tracy, the psychic medium and part-time courtesan who provides a helping hand to the pair as they try to save the world from Armageddon.
Commenting on his casting as Newt, Whitehall says: "I feel extraordinarily privileged to have been asked to play this part and cannot wait to get started."
Michael McKean adds: "I'm thrilled to join this amazing cast and creative team. I can't think of anyone I'd rather enjoy Armageddon with than Gaiman, Pratchett, Mackinnon and company."
It has been confirmed today that the Good Omens cast list also features Adria Arjona as Anathema Device, Nina Sosanya as Sister Mary Loquacious, Ned Dennehy as Hastur and Ariyon Bakare as Ligur.
Due to the way the series has been funded, Good Omens will initially launch on Amazon Prime Video in 2019, before being shown on BBC Two at a later date.
They are amazing. This is them in the opening scenes, 11 years ago, in St James's Park. David and Michael, demon & angel. #GoodOmens pic.twitter.com/ceK4XYY881-- Neil Gaiman (@neilhimself) September 18, 2017
2nd October update: Jon Hamm joins the cast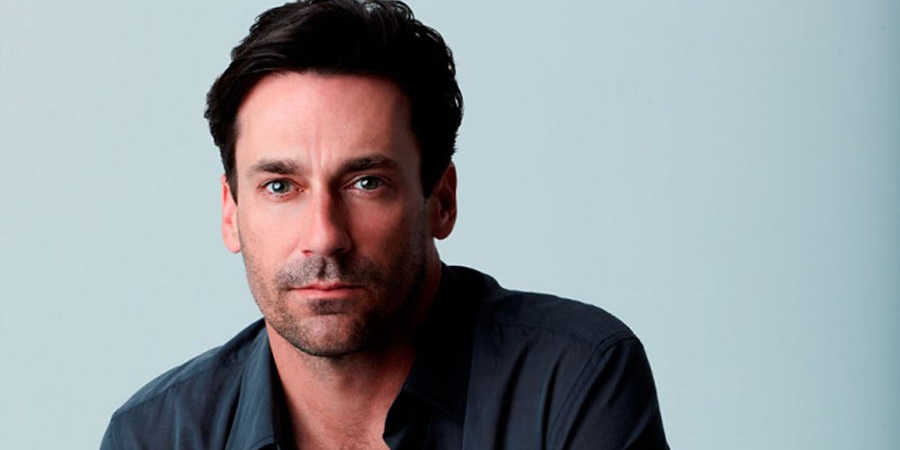 Jon Hamm will be joining the cast in the role of the archangel Gabriel - the primary messenger of God.
The Mad Men star says: "I read Good Omens almost twenty years ago. I thought it was one of the funniest, coolest books I'd ever read. It was also, obviously, unfilmable. Two months ago Neil sent me the scripts, and I knew I had to be in it."
The character of Gabriel has a fleeting role in the original novel but Neil Gaiman explains why he is being developed in the screenplay: "Once we had finished writing Good Omens, back in the dawn of prehistory, Terry Pratchett and I started plotting a sequel. There would have been a lot of angels in the sequel. When Good Omens was first published and was snapped up for the first time by Hollywood, Terry and I took joy in introducing our angels into the plot of a movie that was never made. So when, almost thirty years later, I started writing Good Omens for TV, one thing I knew was that our angels would have to be in there.
"The leader of these angels is Gabriel. He is everything that Aziraphale isn't: he's tall, good-looking, charismatic and impeccably dressed. We were fortunate that Jon Hamm was available, given that he is already all of these things without even having to act. We were even more fortunate that he's a fan of the books and a remarkable actor."
---
For updates, click the button below.
Share this page