Special Psychoville screening announced
Special Psychoville screening announced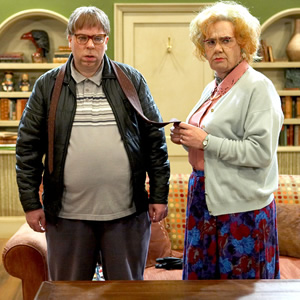 A special screening of Steve Pemberton and Reece Shearsmith's comedy-thriller Psychoville, along with a Q&A, has been announced for Friday 23rd April 2010.
The Phoenix Cinema in East Finchley (north London) will be screening Episode 4 of Psychoville, which is notable for being filmed in almost one continuous take, alongside Alfred Hitchcock's Rope - the 1948 film which inspired this Psychoville episode.
The Psychoville episode is based around serial killers David Sowerbutts (Pemberton) and his mum, Maureen (Shearsmith), who are interupted mid-murder when an unexpected visitor (played by guest star, and fellow League of Gentlemen actor, Mark Gatiss) throws the duo into a panic. This episode is made up of just two takes, with the camera never cutting away from the action. It was inspired by Rope, Hitchcock's thriller starring James Stewart, which, similarly, was presented in real time and appears to use just a single continuous shot.
Following the screenings of Rope and Psychoville, The Phoenix Cinema will also be presenting a questions and answers session with Pemberton and Shearsmith, during which fans can find out more about how the duo filmed the remarkable episode.
The Phoenix Cinema is one of the UK's oldest cinemas, and also the Psychoville stars' local cinema. It is run by a charitable trust as a non-profit making organisation and all money raised from the event will be going towards restoring the Grade II listed building.
Tickets for this Psychoville event on the 23rd April are £15 (£13 concessions). Tickets can be purchased from the cinema's website, phoenixcinemaonline.co.uk (click on the time to book), or by calling the box office on 020 8444 6789.
Share this page