Scot Squad Series 3
Filming starts on Scot Squad Series 3
Filming is under-way for the third series of spoof police documentary Scot Squad
Six episodes plus a Christmas special are currently being filmed in and around Glasgow
The new series will be shown on BBC One Scotland in the winter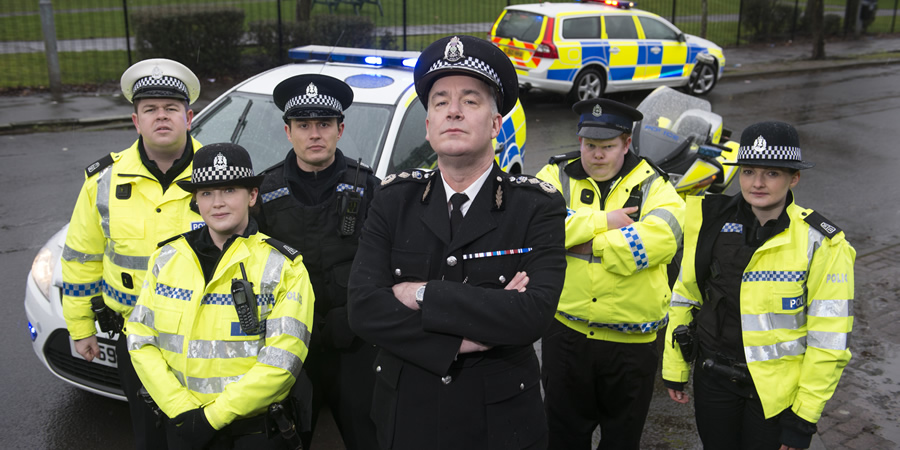 Filming has begun on the third series of Scot Squad, the spoof police documentary series broadcast on BBC Scotland.
The BBC confirms that camera teams have been deployed in Glasgow "as the law keepers return for another arresting mix of comedy and crime".
The new series will comprise of six more episodes, plus a Christmas special.
Jack Docherty returns as Chief Commissioner Cameron Miekelson, alongside Jordan Young (PC Jack McLaren), Sally Reid (PC Sarah Fletcher), Darren Connell (Bobby Muir), Grado (PC Hugh McKirdy), Manjot Sumal (PC Surjit Singh), Chris Forbes (PC Charlie McIntosh), Ashley Smith (PC Jane Mackay), James Kirk (Volunteer Officer Ken Beattie), Karen Bartke (Sergeant Karen Ann Millar) and ML Stone (Maggie LeBeau).
As in previous series, the show is expected to feature a number of guest stars, who "will be announced in due course".
The first day of filming saw PC McKirdy and PC Singh taking to the streets of Ibrox in the part-improvised, part-scripted series.
A 'spokesman' from the fictional force said: "We're glad to see that the BBC cameras are out with us again, catching us catching them, the criminals."
Ewan Angus from BBC Scotland jokes: "It'll be great to welcome the Squad back. The previous series have been in high demand as a training resource for police forces worldwide."
Meanwhile Executive Producer Rab Christie comments: "The Comedy Unit is delighted to be filming a third series of Scot Squad for BBC Scotland. From chief to volunteer, the nation's heroes are pumped and ready to get back out and tackle crime in all its guises - on the street, on the phone, at the desk. The cast of cops and robbers includes brand new comic talent, familiar faces and one or two national treasures who rub shoulders with the Squad."
Scot Squad will film in locations around Glasgow for the next six weeks with the resultant series expected to be broadcast on BBC One Scotland in the winter.
Share this page