Crims dropped by BBC Three
Crims dropped by BBC Three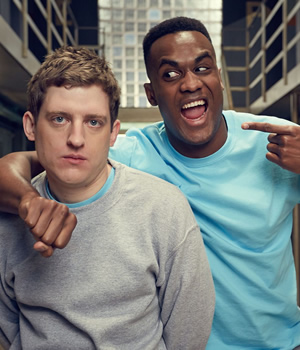 Crims will not return for a second series, the BBC has confirmed.
The sitcom, set in a Young Offender Institution, focused on cellmates Luke and Jason.
Best friends before their arrest, Luke had unwittingly acted as Jason's get-away driver after committing an armed bank robbery. Understandably infuriated by his situation, their imprisonment had also put strain on Luke's relationship with fiancée Gemma, Jason's sister.
Crims Series 1 was broadcast on BBC Three in January and February of this year. Losing viewers across its six-part run, the series reached an average audience of just 250,000 per episode.
Written by Adam Kay and Dan Swimer, it starred Elis James, Kadiff Kirwan, Cariad Lloyd and Ricky Champ.
The news of the programme's cancellation was accidentally broken live on XFM, where star Elis James and fellow comedian John Robins co-host a programme. Not knowing of Crims' true fate, Robins joked to James about the sitcom in which he starred being axed.
Website Chortle enquired with the BBC as to the validity of the comments, with the corporation confirming to them that it would not be recommissioned.
Crims' fate will not come as a huge surprise to many as the corporation plans to shut down its home channel, BBC Three, with the brand becoming an online-only presence. The BBC's overseeing board, the BBC Trust, has yet to give the green light to these plans, but if approved the channel could disappear from television screens as soon as January 2016.
Crims is available to buy in both HD and SD resolutions from Amazon Instant Video
Here is the trailer for the series:
Share this page