Al Murray comes sixth in South Thanet election
Al Murray comes sixth in South Thanet election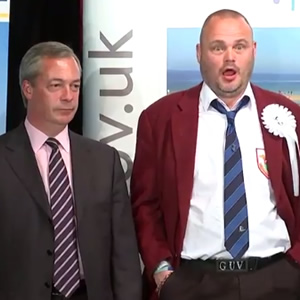 Al Murray, in character as The Pub Landlord, attracted just 318 votes in the General Election contest yesterday.
Murray was standing in the Kent constituency of South Thanet, where UKIP leader Nigel Farage was hoping to become MP.
Polling 6th place in the public vote - out of eleven candidates - Murray's low vote means he loses his financial deposit of £500. However, the comedian didn't seem bothered by the result and put on a display of shock to the waiting media as it became apparent that Farage had in fact come in second place, behind Conservative candidate Craig Mackinlay.
Mackinlay received 18,848 votes (a 38.1% share). Farage, who took 16,026 votes (32.4%), has now resigned his party's leadership, having previously vowed to do so if not elected.
Arriving at the venue where votes were being counted, Murray also jokingly said, referring to the fact he is the leader but also sole candidate for the party he set up, The Free United Kingdom Independence Party (FUKP), "If I lose I'll resign as well." Full results for South Thanet
Murray launched his election campaign with policies such as "The pound will be revalued at £1.10, so it will now be worth 10p more" and "If you come to A&E and it's neither an accident nor an emergency, then you will be sent to a random hospital department to be practised on". His political activities were broadcast on TV last night in the documentary Dave's Election Night Special.
It was clear the comedian never expected to win. Speaking to BCG last week in an interview, Murray joked of his chances "I'd say it's 50/50 I'll beat the Lib Dems who are in the government right now. So that's the kind of impact I'm having, OK?"
Following the declaration, Murray tweeted "We are the 318!" with the FUKP account posting "Mission Accomplished #ENDEX".
Below is footage from the results:
Murray's website has already reverted from focusing on his Free United Kingdom Party to promoting a 2016 gig at the Albert Hall.
Elsewhere, northern comedy club boss Tommy Sheppard has been elected as an MP for Edinburgh East.
The businessman, who owns The Stand chain of clubs in Edinburgh, Glasgow and Newcastle, took the seat from Labour for the Scottish National Party (SNP) with 23,188 votes (49.2%). He tweeted: "A huge thanks to everyone who voted and was involved in the campaign. Would not have been possible without your amazing enthusiasm!"
In the below video he explains his motivations for standing for the SNP:
Additionally, Alan 'Howling Laud' Hope, leader of the Official Monster Raving Loony Party, took just 72 votes (0.2%) in Uxbridge & Ruislip South, a safe Conservative seat won by Boris Johnson.
Share this page