Doll & Em to return for a second series
Doll & Em to return for a second series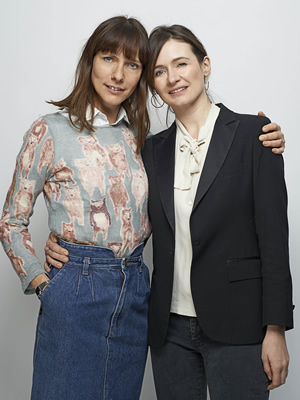 Sky Living has ordered a second series of Doll & Em.
The sitcom, which is semi-improvised, stars Emily Mortimer and Dolly Wells playing fictionalised versions of themselves.
Sky confirmed today: "Following the global success of their self-penned first series, British actresses Emily Mortimer and Dolly Wells will return with a second instalment of the brutally honest and satirically funny take on the joy and pain of female friendship."
Series 1, which launched in February, was set in Los Angeles. It followed what happened when Emily, a Hollywood actress, hired her childhood friend Dolly to be her personal assistant while making a film.
The second series will see the action transplanted to New York. Following Doll's successful foray into acting, Broadway stardom beckons for both of the friends now... however things are still far from straightforward for the pair. The producers explain: "It's not long before they're tackling the pitfalls of curtain calls on the Big Apple's famous stage."
The network notes: "As with the first series, a number of surprise A-list Hollywood cameos will make an appearance in this bittersweet tale which paints an intimate and honest portrait of female friendship."
Reacting to the news, Dolly Wells and Emily Mortimer comment: "We're both so thrilled to be filming another season of Doll & Em for Sky."
Sky Living's Antonia Hurford-Jones adds: "I am extremely pleased to be able to confirm that Doll & Em will be returning to Sky Living next year. I'm so proud to have such an outstanding series on the channel. The extraordinarily smart, brilliantly funny way Dolly and Emily bring the universal theme of female friendship alive makes it the perfect series for Living. I hope our customers are as excited as I am about Series 2."
It is not yet clear whether HBO, the American network that showed Series 1, has bought the rights to show Series 2 as well.
The new series of Doll & Em will be shown on Sky Living in 2015.
In the below clip, the stars talk about creating the show:
Share this page