Badults gets a second series
Badults gets a second series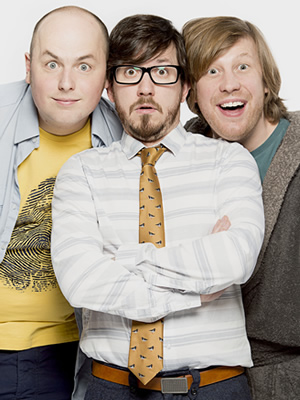 BBC Three boss Zai Bennett confirmed at the Edinburgh Television Festival today that he has ordered a second series of Badults.
The flat-based sitcom is written by and stars sketch trio Pappy's - aka Matthew Crosby, Ben Clark and Tom Parry. The trio play three men in their late 20s who are struggling to grow up and become 'proper adults'. The show also stars Emer Kenny as Matthew's sister Rachel and Jack Docherty as eccentric businessman Carabine.
The first series of the show is currently broadcasting on Tuesday evenings, with the final episode of the series due to go out next week.
The studio-based comedy has divided critics and comedy fans, but has been drawing good ratings with a combined audience of over 2.1 million watching the first episode across the initial seven days.
Pappy's say: "We had so much fun making the first series of Badults so we're delighted that the BBC have asked for more. We really love these characters and we're looking forward to taking them on even sillier adventures. It's quite different to a lot of other stuff on TV but the reaction from viewers has been fantastic. Clearly people still want a big, knockabout show full of stupid jokes. So that's exactly what series two will be."
BBC Commissioning Executive Kristian Smith adds: "I'm thrilled we will be returning next year with a second series of Badults on BBC Three. The distinct silly sense of fun that Ben, Matthew and Tom create is an absolute delight and with its larger sensibilities, it sits beautifully in our mix of comedy on BBC Three."
The show is produced by The Comedy Unit. Managing Director Rab Christie says: "Series one was a total hoot from start to finish and we had a riot recording all six episodes in the studio. It's a joy to see the audience latching onto the merry madness of Badults. We're honoured and excited to be working with Matthew, Tom and Ben again - we can't wait to see what bold, new ideas they come up with - but we've held onto Ben's horses backside just in case."
The new series of Badults will be recorded in Glasgow in 2014. In the meantime Pappy's continue to tour their five-star lauded live show, Last Show Ever.
The first series of Badults will be out on DVD on the 2nd September.
Below is a preview clip from next week's episode, which features a flashback to a party:
Share this page