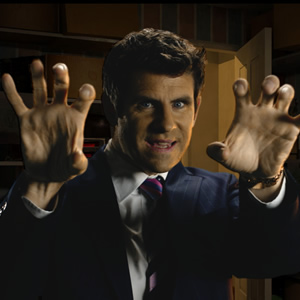 To accompany the six-part first series of Inside No. 9, the BBC released an interactive seventh episode online.
The episode is available to audiences on PCs, tablets and mobiles via www.insideno9extra.co.uk
The Inventors is a stand-alone story written by Ed Hime. The story features Andy (Tom Verall) and Dennis (Dan Renton Skinner), who've found it hard to let go since losing their mum in the Great Storm of 1987. Now with their dad dead too, Dennis reckons it's time to sell their parents' flat, but Andy has a better idea: an invention that might just save the day.
The tale is told in a unique digital format, replacing linear video with a series of cinematic photographs or 'cinemagraphs' with dialogue. Each cinemagraph captures a single moment in Andy and Dennis's adventure through a still image, which contains an isolated piece of movement that repeats on an infinite loop. Audiences can move the story along when they want to by clicking or swiping, depending on their device.
BBC producer Jon Aird says: "We wanted to explore new ways of telling stories digitally for Inside No.9, and the use of cinemagraphs allowed us to do that in a very interesting way. Cinemagraphs are a modern take on the humble animated GIF and their looping animations have an eerie quality, making them perfect for the show and for The Inventors story in particular... but you'll have to watch it to find out why."
Adrian Woolard from BBC Connected Studio explains: "Connected Studio is a pan-BBC approach to support the development of new and original forms of digital storytelling. We were particularly excited to bring together some of the very best talent in the digital and creative industries with the terrific production team of Inside No. 9. The final result is an excellent example of our open and rapid approach to developing ideas in collaboration with the wider industry and BBC expertise."
Adam Tandy, who has also overseen the television episodes, adds: "It's really great to be able to support the Connected Studio's hunt for new ways of telling stories, and adding to the disturbing worlds of Inside No. 9."
To watch the online episode visit www.insideno9extra.co.uk
Published: Wednesday 12th February 2014