The final episode of Series 3 of Inside No. 9 - titled Private View - is set around Fragments, an art exhibition at The Nine Gallery in East London. The Good Life star Felicity Kendal guest stars as a writer who is invited to the event. She explains more here...
What appealed to you about Inside No. 9?
Well it's a very good job and it's a very good script. As an actor, when you are offered a script that is good with very good clever people, that's what appeals to you.
How would you describe your character?
The role I play is a crazy blind woman! Patricia is a very successful woman, who is also blind - she could have been perfectly normally sighted, it was just how it was written. And I had to wear prosthetic eyes, which gave me the creeps!
What drew you to this particular role?
It was very well written and it was very funny, I could not resist it! That's the reason that I always choose a role, because of the dialogue and because of the people who are directing it. In this case it was a combination of the two, it was the package. I also admire and wanted to work with Steve and Reece, who are both clever, inventive and super talented.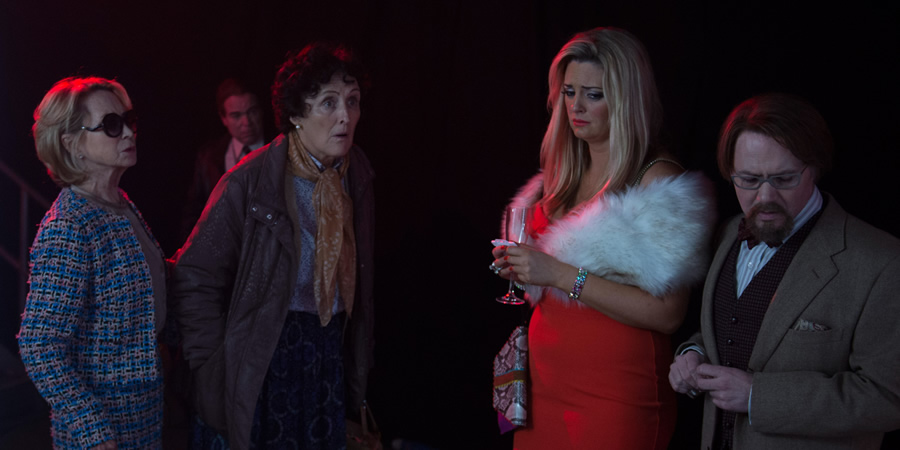 What was is like working with Reece and Steve?
Well, of course, it was a good experience - they're very talented. It was very, very funny and it was great fun to work with them. I would work with them again like a shot. They made the whole experience one of the most fun jobs I've had recently. They adjusted it as you went along and you felt totally confident that they knew what they wanted. It's not always easy trying to please the writers, but in this case we had a ball.
Have you enjoyed working with the rest of the cast?
It was great fun and we got on as if we had been working together for a very long time. It was just a very well-cast combination of people who worked in very much the same way. It really was delightful. I also loved working with Fiona Shaw, it was a hoot!
Do you have a favourite scene?
It wasn't a very long shoot and every day was equally fun. It was also filmed in a basement warehouse, sort of underground car park so it was very cold but we didn't mind.