Christmas Special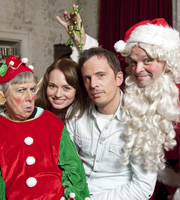 First broadcast: Thursday 22nd December 2011
It's Christmas time in the Danbury household and Don is making a final attempt to lead a normal life. But he has to contend with an out-of-control OAP, a violent Santa and someone close to home winning over his dream girl.
Buy Christmas Special
Release date: Monday 1st October 2012
How Not To Live Your Life centres around Don, a twenty-something man with bad luck and even worse instincts. Ever wanted to tell your boss what you really think of her/him? Or wished you could say what you really feel after a one night stand? Well in this praised BBC...