This feature refers to an event, offer or opportunity that has now ended.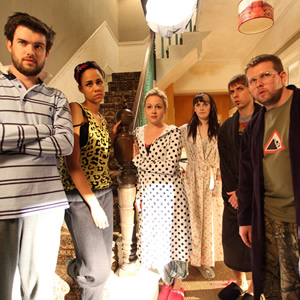 The new series is now here. Series 3 Guide
Fresh Meat, Channel 4's multi-award-winning comedy drama about university students created by Sam Bain and Jesse Armstrong, is due to return this autumn with a new 8-part series.
Filming on the third series starts in Manchester this June, with all the main cast members set to return, alongside two new characters.
Series 2, which was broadcast in October and November last year, ended with JP (Jack Whitehall) and Howard (Greg McHugh) bubbling in the back garden hot tub with 'Jenny the pig'. Meanwhile Vod (Zawe Ashton) and Oregon (Charlotte Ritchie) were off to widen their horizons in South America, with Kingsley (Joe Thomas) doing all he could to prevent a bottom lip wobble as Josie (Kimberley Nixon) sped down the M4 aboard a National Express bus.
Series 3 will see all the characters returning to Manchester for their second year at university. Well, nearly all of them - having been kicked off her course, Josie will still be in Southampton, but still talking to her former house mates, slightly disembodied but in full HD via the technological wonders of an iPad. However there are hints she might return to Manchester.
Channel 4 says: "As for the rest of our Manchester Medlock homies, while they may no longer be freshers, they certainly ain't any the wiser..."
Series 3 begins with JP throwing himself, head first, into a second year ceremonial mission to fuck a fresher; accompanied somewhat willingly but not altogether skilfully by his faithful wing-man, Howard.
Meanwhile the new series sees the introduction of a brand new housemate in the form of genuine fresher and 'smoking fine filly', Candice. Home schooled and as yet unsullied by student life (unless JP has his way), this first year is set to make an impact on the rest of the house, as they set out to show her just how cool they really are.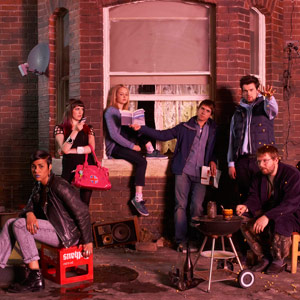 There's also another newbie in the mix, as Vod brings back more than everyone bargained for from her travels in the shape of her new Mexican 'beefcake lover' Javier (which may explain why she and translator Oregon returned from their jaunt separately). Finally Kingsley, bless him, is experiencing life as an unlikely lothario as he continues to juggle double women trouble.
The channel says: "So, stock-pile the Jäger and bring on the bants as Channel 4 provides you with a tuition-fee free series, filled with more epic goings on from our favourite undergrads."
Judy Counihan from Objective Productions comments: "Our fabulous gang of six returns to navigate their second year; no longer freshers, but eager as ever to experience uni life to the full and beyond - and there's an unsuspecting newbie to educate, too..."
Channel 4's Roberto Troni adds: "We're thrilled to have the Fresh Meat gang coming back to Channel 4 for a new academic year and a new series. Sam & Jesse and our brilliant cast return once again to remind us of those excruciatingly awkward yet seminal uni days, in their inimitable and hilarious style. The residents of Hartnell Avenue may be a year older but -thankfully- they're none the wiser, as they deal with new responsibilities, new housemates and new loves, heartbreak, heartache and few unwanted blasts from the pasts."
Fresh Meat Series 3 will be on Channel 4 this autumn.
Published: Tuesday 14th May 2013