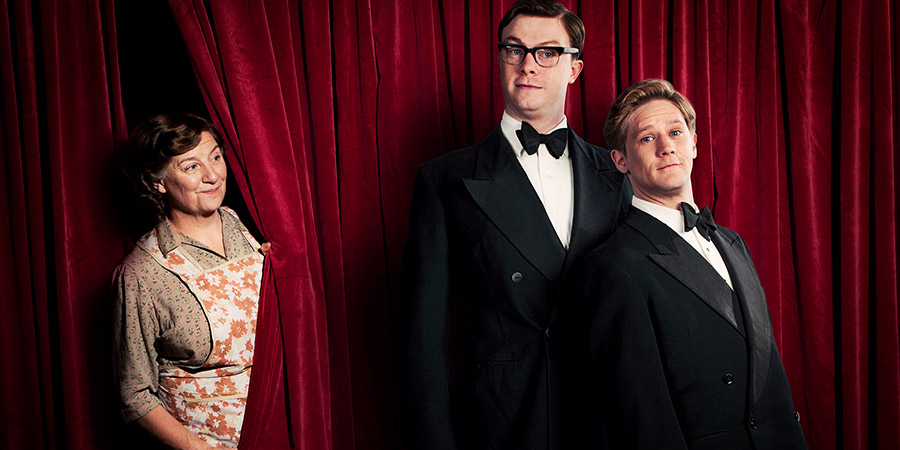 Genre

Comedy Drama

Broadcast

Channel

Episodes

Creator

Starring

Victoria Wood, Vic Reeves, Bryan Dick, Daniel Rigby, Reece Shearsmith, Emer Kenny, Jonah Lees, Harry McEntire and others

Writer

Director

Producer
From children's variety stars to national treasures, this drama is about the making of one of the best comedy double acts of our time - Morecambe and Wise.
A chance meeting between precocious child star Ernie Wiseman and reluctant performer Eric Bartholomew on the children's variety circuit saw the start of an unlikely friendship. Encouraged by his well meaning but pushy mother Sadie, because "you aren't good at anything else", Eric Morecambe became the funny man to Ernie Wise's "feed".
After a successful stint in children's variety, Eric and Ernie struggled to make their way in the world of mainstream entertainment. But after a few dubious tours and an ill-advised television series, Running Wild, Morecambe and Wise learnt to trust their own instincts and just make people laugh - and laugh they did.
Creator Victoria Wood says: "We may think of Morecambe and Wise as that brilliant and much-loved double act but I've always thought that a film about their days as child performers in variety and their struggles to establish themselves would make a fantastic story."
Victoria felt this was very much a story of men's friendship and would be better written by a male writer. Peter Bowker, a huge fan of Eric and Ernie, researched and created the script.
"The casting has been a marathon," says Victoria. "Because our story spans 20 years we have had to find three actors for each part - to play the comedians as children, teenagers and men. We were looking for a specific Eric or Ernie quality at each age and, once we found it, the rest was up to the make-up department to match their hair and eye colour."
The story is at once a fascinating look at the showbusiness of the Forties and Fifties and also a celebration of family and friendship. "Sadie did originally encourage Eric to become a performer as she felt he would not be happy in an ordinary job, and she also spotted the potential in him teaming up with Ernie.
"But the drama also focuses on the strength of the bond between the two men, which enabled them to overcome the flop that was their first foray into television."
The story starts in the late-Thirties and runs up to 1954 - the year of Morecambe and Wise's first television series, Running Wild.
"We toyed with the idea of using puppets to play the young Eric and Ernie," said Victoria. "But, in the end, sanity prevailed and we have our three Erics and three Ernies of different ages. We could only run to one Sadie, however, so I am hoping to show the passage of time by smiling a lot when Sadie is young, then wearing a different coat."
The drama was made with the support and involvement of both Morecambe and Wise's families.
Gary Morecambe, Eric's son, comments: "It's such a genuine thrill to see a film about the early days of Morecambe and Wise being helmed by someone of the calibre of Victoria Wood. It is the greatest possible tribute to the double act."
Victoria Wood also presents a linked documentary which follows the drama and charts the duo's early years and the hurdles they faced, considering why Eric and Ernie still remain Britain's best-loved double act. Featuring treasured archive footage, celebrity interviews and returning to important landmarks in their journey, the documentary uncovers the hard work and secrets of their phenomenal success as a comedy act which still endures today.
Production company

Also known as

Morecambe And Wise Drama (Working title)

Laugh track

None
Broadcast details
First broadcast

Saturday 1st January 2011 on BBC Two at 9pm

Last new broadcast

Saturday 1st January 2011 on BBC Two at 10:30pm

Last repeat

Saturday 26th June 2021 at 8:00pm
Website links